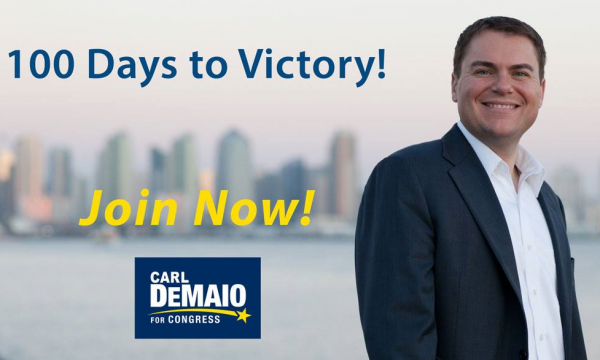 on
The Morning Insurrection newsletter reminded me that today would be a great day to take a look at the state of the congressional race in my district (CA-52), which is pitting Democratic incumbent Scott Peters against a former city council-member and veteran GOP campaigner Carl DeMaio. We have covered this race before:  
#CA52: Flip opportunity against 1st term Dem in evenly split district
As of today, the district remains a very distinct "flip opportunity" for Republicans to gain a seat in the House.  According to
Roll Call, Peters holds an exceedingly slight lead over DeMaio
.
Peters leads DeMaio, 48 percent to 43 percent — slightly outside the survey's 4.9 point margin of error. The poll was conducted by GBA Strategies and surveyed 400 likely voters via live telephone between July 20-22. This race in California's 52nd District, located in and around San Diego, is a top Republican target in November. The National Republican Congressional Committee has touted DeMaio as a top recruit in the district that President Barack Obama won with 52 percent last cycle.
DeMaio must be upsetting all the right (wrong?) people, as his campaign offices were just vandalized: That the Peters campaign is now attempting to gin-up his base with "Tea Party" charges against DeMaio is good evidence that his real poll position is less than stable. Here an example of the
tactic from Peters' campaign website
: