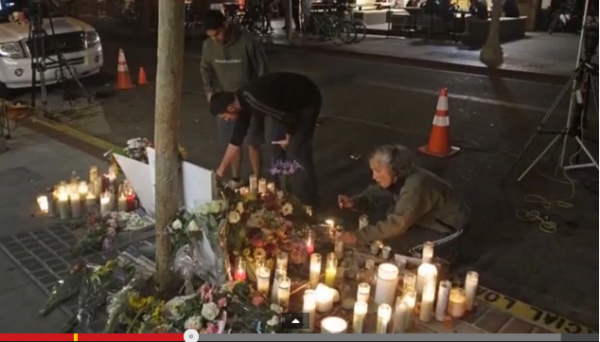 on
This year's Memorial Day weekend was filled with tragedy for Californians -- a tragedy that might have been prevent if  parents' warnings about their mentally ill son had been pursued.
Six University of California Santa Barbara students were killed
Friday in a spree murder.  The school has cancelled classes in mourning for the profound loss.
UC Santa Barbara canceled classes for Tuesday as the campus mourned six students killed in a rampage on Friday. The school, however, said faculty and staff will be on campus to offer support and counseling to students.
The dead students have now been identified as
:
Veronika Weiss, 19, from Westlake, CA
Katherine Breann Cooper, 22, from Chino Hills, CA
Christopher Ross Michaels-Martinez, 20, from Los Osos, CA
Cheng Yuan Hong, 20, from San Jose, CA
George Chen, 19, from San Jose, CA
Weihan Wang, 20, from Fremont, CA
Authorities have  determined that the killer was
a troubled off-and-on student at Santa Barbara City College named Elliot Rodger. Rodger shot and killed himself at the end of the shooting spree.
Authorities have identified the killer, who left various video and written manifestos saying that he was seeking to kill sorority women and others at the university as revenge for the way women had rejected him. The killer -- who subsequently shot himself -- has been identified as a student who enrolled but frequently dropped out of classes at Santa Barbara City College. Rodger posted a video on YouTube prior to the killings. In it, he outlined what he was going to do and said that the women deserved it for rejecting him. The Los Angeles Times published a transcript of the video. "On the day of retribution, I am going to enter the hottest sorority house at UCSB and I will slaughter every single spoiled, stuck-up, blond slut I see inside there. All those girls I've desired so much. They have all rejected me and looked down on me as an inferior man if I ever made a sexual advance toward them, while they throw themselves at these obnoxious brutes," the video says. "I take great pleasure in slaughtering all of you. You will finally see that I am, in truth, the superior one, the true alpha male."
The YouTube video of one of Rodger's many disturbing dialogs is below.