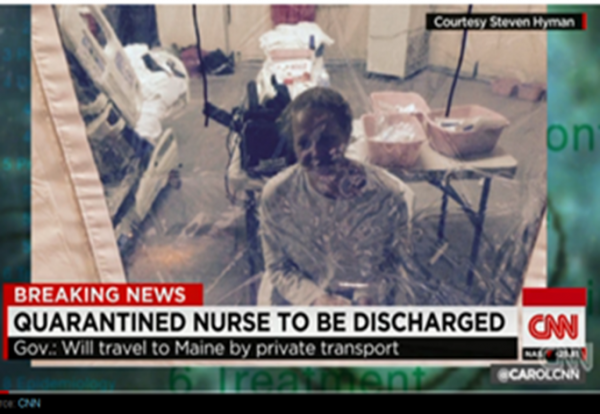 on
When I heard that Dr. Martin Salia, a Sierra Leone native who is married to a US citizen and who contacted ebola while treating patients in his native country, had been flown here for treatment and was in "very critical" condition, I thought "if we can cure
him
, then American medicine is really onto something in the treatment of ebola." Sadly, it was not to be: Dr. Salia
has died
of the disease. He was very very far gone when he arrived:
"He was placed on dialysis, a ventilator and multiple medications to support his organ systems in an effort to help his body fight the disease. He also received a dose of convalescent plasma and ZMapp therapy was initiated on Saturday," the hospital said in a statement. "We used every possible treatment available to give Dr. Salia every possible opportunity for survival," Smith said. "As we have learned, early treatment with these patients is essential. In Dr. Salia's case, his disease was already extremely advanced by the time he came here for treatment."
There are two very salient facts about the case of Dr. Salia. The first is that he never knew how he got the disease; he was a general surgeon in Sierra Leone and was not specifically treating ebola patients. This reflects the fact that ebola is not always easy to spot, even for medical personnel who are well-versed in its diagnosis and are treating patients in areas where it is endemic, and therefore would be on high alert for it. That is one of the many many dangers of the disease, and you may recall that the
same thing happened with Dr. Rick Sacra
, who was treated here much earlier in the disease's course than Salia and has survived. The second thing I'd like to highlight is that it took four (or five; I've read differing accounts) full days
after
Dr. Salia first showed ebola symptoms for his blood test to become positive for the disease. By that time he was extremely sick indeed. The loss of those days of possible treatment here may have made a big difference.
Here is the story
: