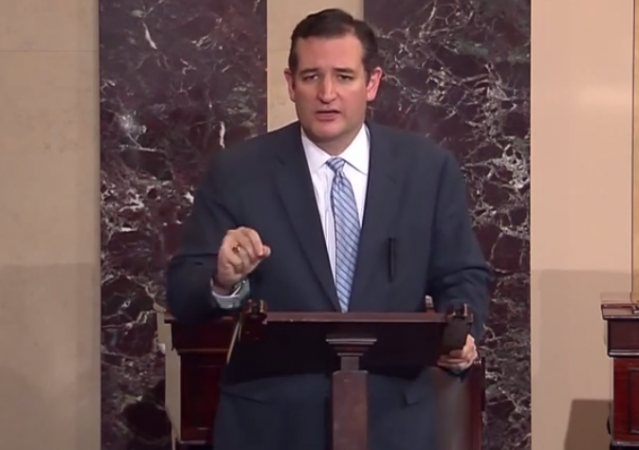 on
Democrats threw up a roadblock today when they
filibustered
a GOP bill that would fund the Department of Homeland Security while neutering years' worth of Obama Administration policies favoring deportation amnesty. As I said earlier today,
GOP leadership had to have known this was coming
. The Dems have been apoplectic over Republican challenges to executive amnesty ever since they lost the majority, so a challenge to this aggressive change in policy is no surprise. What
is
surprising is how one of the Senate's most aggressive members addressed the possibility that the House bill would fail to make it to a vote. Via
National Review
:
Senator Ted Cruz (R., Texas) and Senator Susan Collins (R., Maine) argued during a Senate GOP lunch that if Democrats filibuster the Department of Homeland Security funding bill — which blocks implementation of Obama's 2012 deferred action program and his November 2014 "adult amnesty" — Republicans should respond by blocking only the 2014 orders. The thinking, according to a GOP senator who was in the lunch, is that Senate Democrats will have a harder time staying unified for a filibuster if Republicans have a narrower focus. "What I have said for months now is the central focus of Republicans should be stopping President Obama's unconstitutional amnesty," Cruz tells National Review Online when asked to confirm the details of his case. "That's what Republican candidates promised the voters in November and that's the promise we need to fulfill."
That's...new. And huge. Back in January, Senator Cruz
released a glowing statement
, praising the House bill and its amnesty defunding provisions, saying that it was up to the Senate "to take up the House bill, preserving those key provisions, and send it to the President..." What happened?