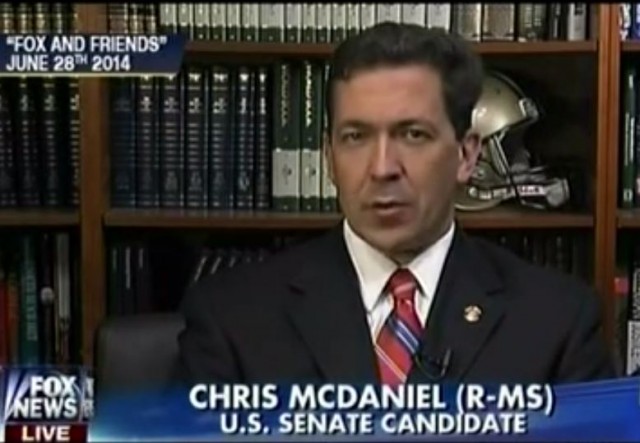 July 08, 2014
93 Comments
on
Yesterday, Mitch Tyner -- the attorney for the Chris McDaniel for U.S. Senate campaign --
briefly updated reporters
on the status of their challenge in the Mississippi GOP runoff election. Tyner responded to a question about the 6,700 vote margin between McDaniel and incumbent Sen. Thad Cochran and was confident of there would be a new election based on MS state law.
 (ineligible voters). However, I would be surprised if we don't find 6,700. It's very easy to see the Mississippi law holds that if there's the difference between the Cochran camp and our camp -- that vote difference -- if there's that many ineligible voters, then there's automatically a new election.
Catherine Englebrecht, from True the Vote, also seems to be positive that McDaniel will prevail. But is the state's voting law on McDaniel's side in such a cut and dried manner as his attorney states? Not so fast says a
Mississippi law professor who spoke to the Washington Post
.
We spoke with Matt Steffey, professor of law at the Mississippi College School of Law, to see if he agreed with Tyner's assessment of what will happen next and, in case we didn't already give it away, he didn't. "He uses the word automatically, and I think that's a very optimistic and self-serving reading of the law," Steffey told us by phone. "I don't think the cases can be fairly interpreted to say that if they come up with 6,700 illegal votes and can demonstrate that they're illegal -- it's an overstatement of the law to say that it automatically demands a recount."