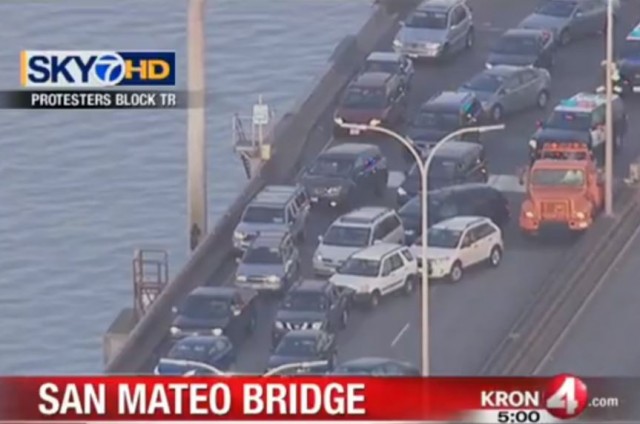 on
We have reported extensively on the dangerous tactic of blockading the San Mateo - Hayward Bridge, including abandoning cars and draping a Palestinian flag across the roadway at the highest span point. Hundreds, if not thousands, of motorists were trapped on the bridge, with no way out and no way for emergency vehicles to exit. While ostensibly a Martin Luther King, Jr. Day #BlackLivesMatter protest, the event was completely hijacked by anti-Israel activists:
[caption id="attachment_113857" align="alignnone" width="600"]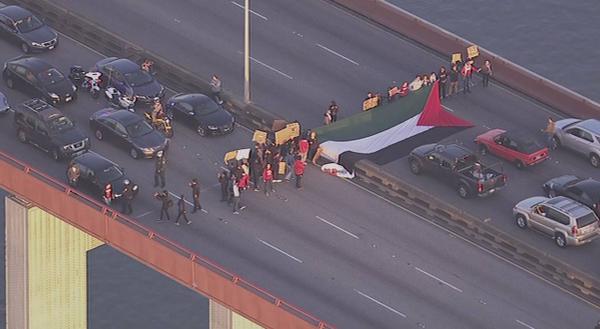 (via Farah Salazar Twitter)[/caption] In a recent post, I noted that this how dangerous this tactic was, and how it
differed from other protest road blockages
:
While the protest ostensibly was about the #BlackLivesMatter movement and Dr. Martin Luther King, Jr. Day, it was hijacked as so many such protests are by the anti-Israel contingent, just like in Ferguson and to a lesser extent in New York City during the Eric Garner protests. Subsequent to that initial report, we have learned that it was much worse than originally thought. The tactics used were designed to cause maximum traffic disruption and mayhem, including protester cars being abandoned on the roadway, resulting in several car crashes and emergency vehicles being blocked. The activists used a dangerous tactic of blocking both directions initially, making the scene inaccessible initially to emergency vehicles... It's nothing short of a miracle that there were no serious injuries and that no ambulances had to be redirected, as happened in Boston, or worse, were stuck in the traffic jam.
It turns out my fears were realized, as the parents of a three-year old girl in medical distress have threatened suit against Stanford University, whose students constituted most of the blockaders (h/t
Instapundit
via
The College Fix
).
The Stanford Daily
student newspaper reports: