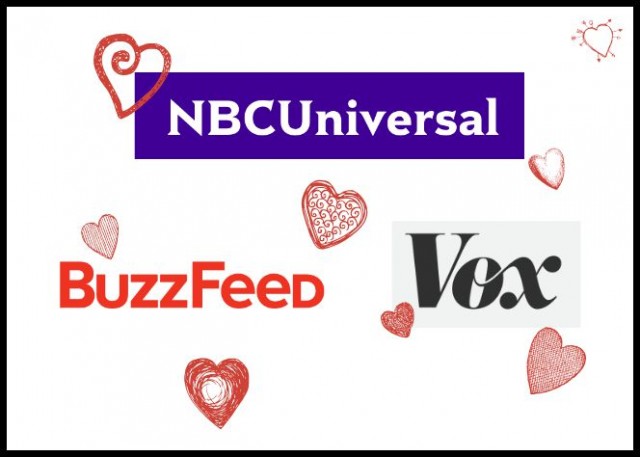 on
Comcast subsidiary NBC Universal recently purchased large shares of Buzzfeed and Vox Media. NBC Universal, "owns and operates a valuable portfolio of news and entertainment television networks, a premier motion picture company, significant television production operations, a leading television stations group, world-renowned theme parks, and a suite of leading Internet-based businesses." With NBCU sinking about $200 million into each respective media conglomeration, both Vox Media and Buzzfeed are reportedly valued at over $1 billion each. Though Buzzfeed is valued around $1.5 billion.
Re/code
reports:
...in addition to the NBCUniversal investment, the two companies now have a commercial partnership. That means, among other things, that they will collaborate on digital advertising, will work together on video advertising and video programming, and that you will likely see Vox Media employees more frequently on NBCU-owned networks like CNBC. (Re/code already had and continues to have a news partnership with CNBC).
Does this mean proliferation of Voxsplaining and cat gifs? Will the internet overtake television?! Is the future NOW?!