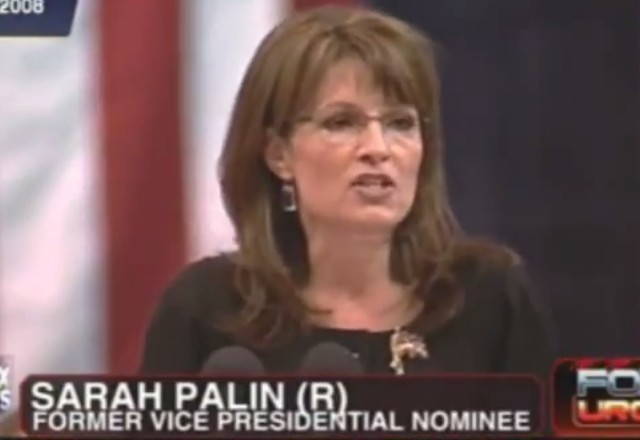 on
Please see Mandy for more coverage of the crisis here.
As
Brian
and
Neo
have previously posted, during the 2012 campaign Mitt Romney was mocked by President Obama and his cheerleaders for highlighting the Russian threat to American interests. Romney wasn't the first Republican mocked for suggesting that Obama wasn't ready or willing to stand up to Russia's leader. In 2008, vice presidential candidate, Sarah Palin
warned of Russian troops invading the Ukraine
.
In October 2008, after Russia's invasion of neighboring Georgia emerged as a foreign policy flashpoint in the homestretch of a heated campaign, Palin told an audience in Nevada, "After the Russian army invaded the nation of Georgia, Senator Obama's reaction was one of indecision and moral equivalence, the kind of response that would only encourage Russia's Putin to invade Ukraine next." Her prediction was derided by Foreign Policy magazine  as "strange" and "extremely far-fetched," but Palin, frequent media antagonist that she is, couldn't resist crowing about how events have played out.
Twitchy, it seems,
never forgets
. (In this case aided by
Jammie Wearing Fool
.) Gov. Palin is enjoying the vindication
on Facebook
.
Yes, I could see this one from Alaska. I'm usually not one to Told-Ya-So, but I did, despite my accurate prediction being derided as "an extremely far-fetched scenario" by the "high-brow" Foreign Policy magazine.
Twitchy (again) notes that the editor in question is
digging deeper
.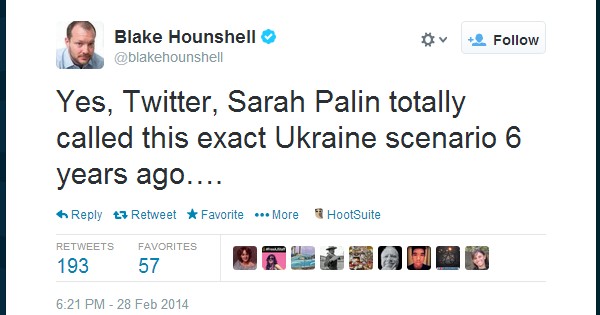 Earning himself an appropriate rebuke.