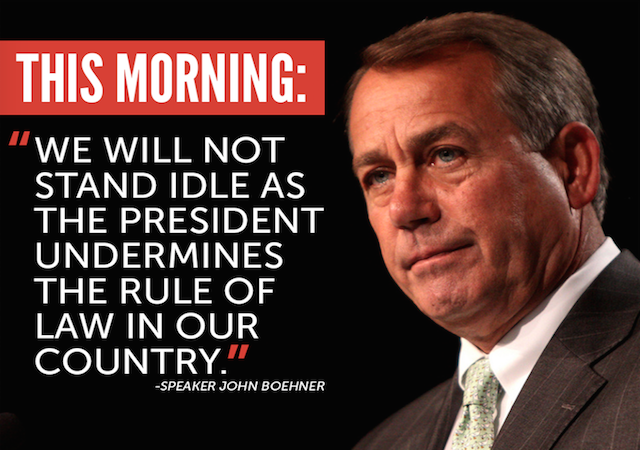 on
Today the House GOP sued the Obama Administration in federal court over the Administration's decision to make changes to the version of the Affordable Care Act that Congress passed. From
CNN
:
The one-two punch from Boehner marks a new era of tension between Republicans who will officially take over Congress in January, and the President who has signaled that despite his party's losses in the midterms, he plans to proceed with his agenda without GOP cooperation. After two Washington firms pulled out of commitments to represent the House in recent months, Boehner hired George Washington law professor Jonathan Turley earlier this week. Turley is an expert on constitutional law and has appeared on multiple television networks as a legal analyst. Boehner and other top congressional Republican leaders are also contemplating a filing a separate lawsuit challenging the president's authority to take executive action to give 5 million immigrants temporary status.
This move has been coming since July, when the chamber passed
House Resolution 676
, which authorized the lawsuit. Although lawmakers are already being criticized for not taking immediate action to stop Obama's executive order on immigration, there's a good reason for the delay.