Posted by
Kemberlee Kaye
Monday, July 9, 2018 at 5:00pm
| 7/9/2018 - 5:00pm
"#TheResistance is losing. So expect them to get even more unhinged throughout #ResistanceSummer."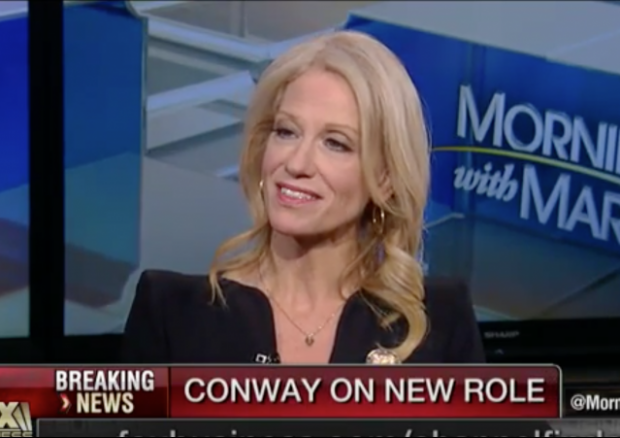 In an article published by the Washington Post Monday, long-time Trump advisor Kellyanne Conway described how she was heckled at a supermarket shortly after moving to the Imperial City.

Unlike some members of the Trump administration who've been publicly harassed as of late, Conway fired back:
Just after arriving in Washington to work for President Trump, Kellyanne Conway found herself in a downtown supermarket, where a man rushing by with his shopping cart sneered, "You ought to be ashamed of yourself! Go look in the mirror!"

"Mirrors are in aisle 9 — I'll go get one now," Conway recalled replying. She brushed off the dart with the swagger of someone raised in the ever-attitudinal trenches of South Jersey."What am I gonna do? Fall apart in the canned vegetable aisle?"
Conway's encounter with lame public insults is just one of many endured by Trump's team members.
Saturday afternoon, a woman shopping in the same bookstore as former Trump advisor Steve Bannon, verbally assaulted Bannon, leading the store owner to call the police.
Also Saturday, Senate Majority leader McConnell was confronted and threatened outside of a restaurant in Louisville.
And the list goes on:
Suspect Arrested for Threatening to Kill FCC Chairman Ajit Pai's Children
Elaine Chao, Mitch McConnell Accosted by Immigration Protesters
Protestors Surround Sr. White House Advisor Stephen Miller's Apartment
Sarah Sanders Kicked Out of Virginia Restaurant Because She Works For Trump
Restaurant Owner That Booted Sarah Sanders Followed Her Family to Another Restaurant and Started a Protest
#TheResistance crosses another line, confronts DHS Secretary Kirstjen Nielsen at home
"Justice-minded" Website Doxes Sr. White House Advisor Stephen Miller
DC Socialist Group Chases DHS Secretary Kirstjen Nielsen Out of a Restaurant Shouting, "Shame!"
Professor Jacobson nailed it Sunday when he wrote, "#TheResistance is losing. So expect them to get even more unhinged throughout #ResistanceSummer."