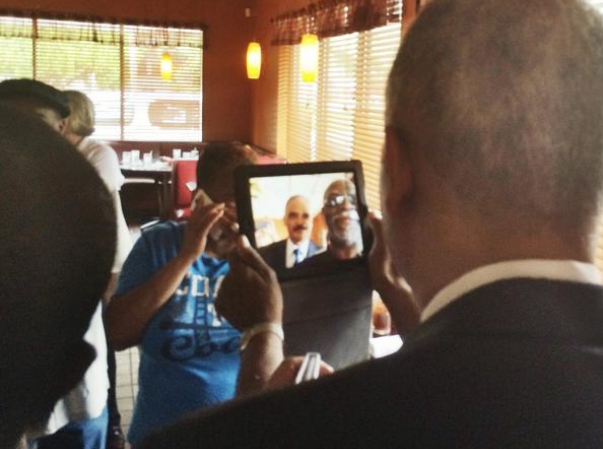 on
Attorney General Eric Holder is meeting with law enforcement and civil rights leaders in Ferguson, Missouri today in an attempt to ease racial tensions in the St. Louis Metro area. It's unclear, however whether Holder's presence will calm the violence, or
make things more difficult
for local and state law enforcement:
Justice Department officials say the unusually aggressive federal intervention is justified by the continuing violence and apparent mishandling of the case by local officials, who have been criticized for displaying excessive force against protesters and moving too slowly to investigate the Aug. 9 shooting. But law enforcement officials and other experts could not recall another instance in which Washington pushed ahead with a federal civil rights case as it has in Ferguson, almost elbowing state officials out of the way.
Fortunately for America, Holder also took time out of his busy schedule to get in on a selfie:
A man takes a selfie with Attorney General Eric Holder #Ferguson pic.twitter.com/SI8jScJfJ2

— Ryan J. Reilly (@ryanjreilly) August 20, 2014
Holder has also encouraged local civil rights leaders and advocates to
promote a more federal-centric approach
to resolving the crisis in Ferguson.
In a sign that Holder's campaign is gaining traction in the area, a group of African American lawyers held a news conference Tuesday in front of the St. Louis County courthouse, calling on local prosecutor Robert McCulloch to recuse himself. They said the federal investigation should proceed first because McCulloch appears to be "emotionally invested in protecting law enforcement." Yet with all of Holder's determination, the reality is that state prosecutions almost always go first and that a federal civil rights case could be harder to build and win than a state case involving a charge of murder or manslaughter.