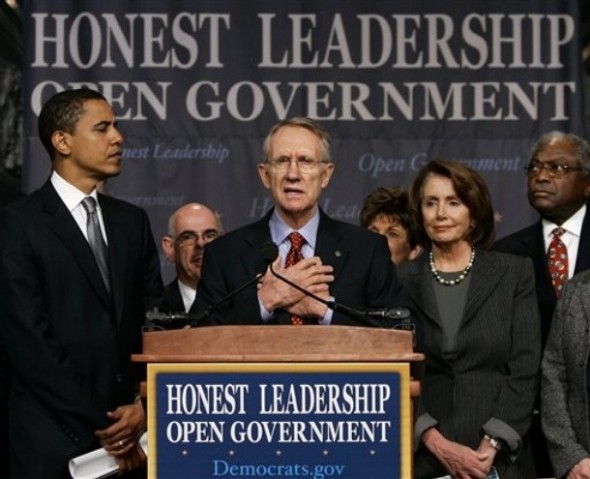 October 24, 2013
37 Comments
on
Mandy noted the other day,
WH spox denies Sen. Durbin claim House GOPer told Obama "I cannot even stand to look at you"
. It gets more interesting. It turns out that Dick Durbin wasn't "lying" if by lying you mean saying something he knew to be untrue.  It was curious why Durbin would not name names.  Now we know.  He would have had to name Harry Reid as his source. The White House gave the line to Harry Reid, who read it to the Democratic Senate caucus, one of whose members -- Durbin -- went public with it.  The story still was false, and the White House is claiming a "miscommunication." I'm not buying that.  The supposed statement took place on October 10, as Democrats were standing united against cutting a meaningful deal with Republicans. I'm leaning toward the "miscommunication" not being so, but part of a White House strategy to hold the party together at a critical time. Huffington Post reported (h/t
Hot Air
),
Harry Reid Told Caucus That Pete Sessions Was Behind Obama Insult, Senators Say
:
Senate Majority Leader Harry Reid (D-Nev.) told his Democratic caucus last week in a private meeting that a top House Republican said to President Barack Obama, "I cannot even stand to look at you," according to two Democratic senators who were present. The account was confirmed by two Senate Democratic aides who said they independently learned of the exchange from other senators. A White House official said Thursday that the administration did relay such a message to Reid, but that it was the result of a miscommunication. "While the quote attributed to a Republican lawmaker in the House GOP meeting with the President is not accurate, there was a miscommunication when the White House read out that meeting to Senate Democrats, and we regret the misunderstanding," the official said in a statement.
Politico
further reports: