Posted by
Mary Chastain
Monday, October 14, 2019 at 3:00pm
| 10/14/2019 - 3:00pm
"You mean like stealing their identity in an attempt to advance a career?"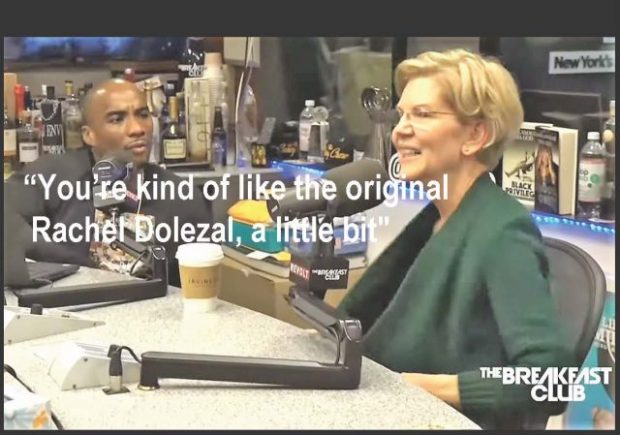 2020 Democrat presidential candidate Sen. Elizabeth Warren (D-MA) once again showed off her lack of self-awareness.
Warren, who tried to pass herself as Native American, mourned "America's mistreatment of indigenous peoples" on Monday since it's Columbus Day.
Did she say this to herself as she looked in the mirror?
Besides the BDS movement, Professor Jacobson has worked long and hard to hold Warren accountable for her lies when it comes to her faking her heritage in order to advance her career.
So it's laughable that Warren suggests she cares about Native Americans. More proof? She attached her presidential plan to honor commitments to Tribal Nations. You know, because one cannot just share thoughts on a holiday without some self-indulgence.
The story of America's mistreatment of indigenous peoples is long and painful. And yet, Native communities have proven resilient. We owe them our respect—and we must honor our government's commitments and promises to them. #IndigenousPeoplesDay

— Elizabeth Warren (@ewarren) October 14, 2019
We must fulfill our trust and treaty obligations to Tribal Nations. We must protect Tribal sovereignty and self-determination. And we have to go even further to empower indigenous peoples to build stronger communities and a brighter future. https://t.co/WKMjPKTvDu

— Elizabeth Warren (@ewarren) October 14, 2019
Reactions? PRICELESS.
You mean like stealing their identity in an attempt to advance a career? https://t.co/HP1KIvRjla

— Legal Insurrection (@LegInsurrection) October 14, 2019
— Daily Caller (@DailyCaller) October 14, 2019
Would you consider impersonating one of those indigenous peoples for personal gain a mistreatment? Do you have any self-awareness at all?? If you didn't tweet this, you should fire the staffer who did and apologize profusely for your lack of basic judgment. #squaw

— Alan J. Sanders (@AlanJSanders) October 14, 2019
— ?? RedRiverGrl ?? (@redrivergrl) October 14, 2019
You've been visited by the dancing pander bear. pic.twitter.com/17cUR3xM0y

— Brandon Morse (@TheBrandonMorse) October 14, 2019
You stole a job from a native american at Harvard so this is humorous.

— eric (@eriContrarian) October 14, 2019
I understand you suffered from painful discrimination as a Native American; this must be true since many others did. America needs to do better than using this group for political or career gain. Oh, and Happy Columbus Day!

— Razor (@hale_razor) October 14, 2019
I heard some people even culturally appropriate Native American identity in order to get cushy gigs at Harvard Law School, as shocking as that sounds!

— Liz Wheeler (@Liz_Wheeler) October 14, 2019
— Yang is how we beat Trump ? (@gang4610) October 14, 2019
Yeah Liz you should skip this holiday. Just take the day off. pic.twitter.com/VuaOvSIMSE

— Fredrohena (@Lifesasoundtrak) October 14, 2019
LOUD SIGH!!! pic.twitter.com/IkRTyBDl4A

— Val (@Valgb1961) October 14, 2019
— J. Kim ? (@DavidJinSooKim) October 14, 2019
— Nirav ? Yangkuza ? (@gracenote108) October 14, 2019