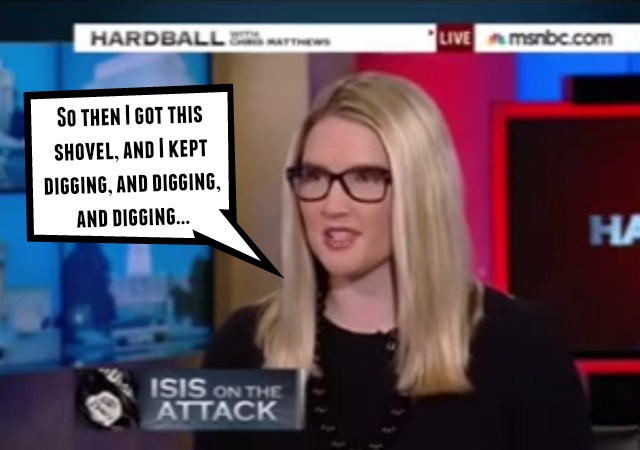 on
On Monday, State Department spokeswoman Marie Harf insisted that the only way we'll be able to defeat ISIS is by ensuring the
terrorists have jobs and opportunities
---a statement that would be hilarious if it were on SNL and not an actual thing that Administration officials believe in real life. Contrary to civilization upon civilization's worth of wisdom, Harf also said, "we cannot win this war by killing" ISIS. The internet, having seen the idiocy in action, responded accordingly. Ms. Harf responded by grabbing the biggest shovel she could find and dug with the fury of 1,000 waffling diplomats. She went so far as to quote... George W. Bush? First, she blasted a link that touts the UN sanctions against ISIL---and we all know how effective sanctions are... Right, Iran?
UAE Amb to the US Yousef Al Otaiba writes in advance of CVE summit that "ISIL Can't Be Beat on the Battlefield Alone" http://t.co/4MWMGT6PHh

— Marie Harf (@marieharf) February 17, 2015
Then, she tweeted where she lifted her talking points; a CNN article from 2008.
Military ldrs have long said CT takes more than military action. Adm Mullen in 08: "We can't kill our way to victory" http://t.co/1KylBw9ic7

— Marie Harf (@marieharf) February 17, 2015