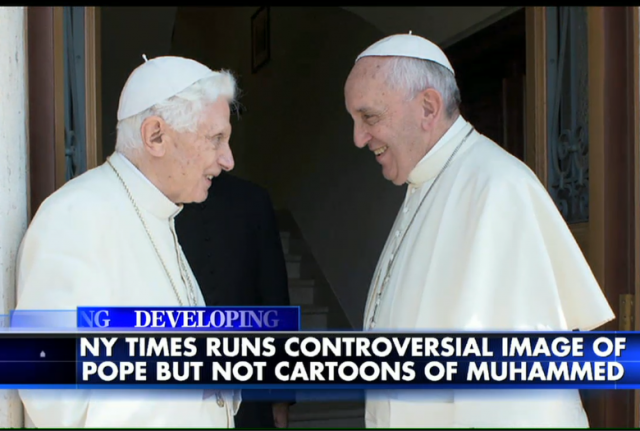 July 02, 2015
16 Comments
on
The NY Times refuses to publish cartoons of Mohammed even as part of news stories about cartoons of Mohammed, and the violence that ensues. But The NY Times has no hesitation in publishing Condom Pope artwork, a portrait of the Pope composed of condoms. The Times Public Editor Margaret Sullivan, who functions as a quasi-ombudsman,
wrote
how the Times Standards Editor responded (emphasis added):
The standards editor, Philip B. Corbett, fielded an inquiry about this from The Washington Examiner. Here's how he responded:

There's no simple, unwavering formula we can apply in situations like this. We really don't want to gratuitously offend anyone's deeply held beliefs. That said, it's probably impossible to avoid ever offending anyone. We have to make these judgments all the time. Reasonable people might disagree about any one of them.