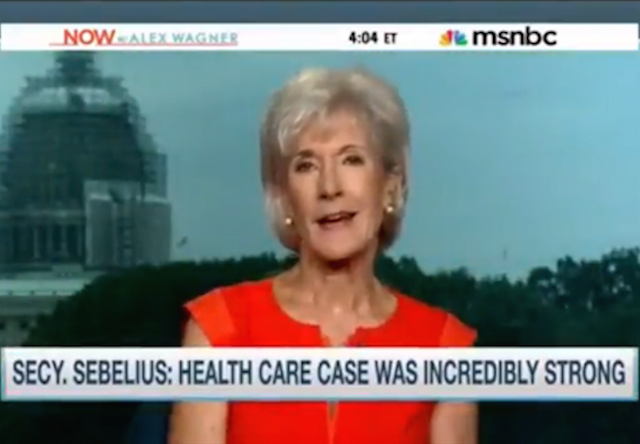 June 28, 2015
15 Comments
on
Last week's breathtakingly disappointing
Supreme Court decision
in the
King v. Burwell
Obamacare subsidy case still has activists reeling. Where do we go from here?
Burwell
was a narrow case, but its ruling is one more brick we'll have to deal with when tearing down the health care house that Barack built. Still, progressives are riding high in the wake of the ruling, using it as a tactic to bolster confidence in the program and fight back conservative opposition to the health care law. Former HHS Secretary Kathleen Sebelius took to the airwaves to praise the ruling and above all, defend her pet program---by insisting that people stop her on the streets to thank her for Obamacare. Watch, via
Real Clear Politics
:
I think this law has always been about people who wanted and needed desperately affordable health coverage. There's 6.4 million people who now know the coverage that they have, can continue on with subsidies and millions more who can take advantage of it. I've been a lucky one, I've always had affordable available health care. So I feel great for the people who talk to me every day in the grocery store and on airplanes and stop me on sidewalks and tell me that this has changed their life forever. They no longer have to worry about affording health care if they get sick, taking care of their kids and this is a very good day for those Americans.