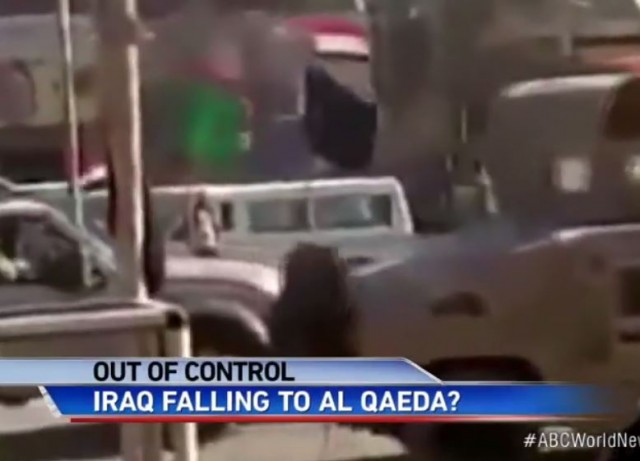 June 13, 2014
24 Comments
on
Media and civilian reports throughout northern and central Iraq on Friday
suggest that the situation on the ground
has become increasingly violent and unstable to the point that the Iraqi government is crumbling:
Heavily armed Islamist militants flush with $450 million in stolen cash pushed toward Baghdad on Friday, sending thousands fleeing in fear from the Iraqi capital. Al Qaeda-linked insurgents who overran large parts of the north of the country earlier this week also seized about $450 million during a bank heist, Mosul Mayor Athier Nujaifi told NBC News. That makes the Islamic State of Iraq and al-Sham (ISIS) the world's richest terrorist group.
The ISIS troops are led by Abu Bakr al-Baghdadi (or Abu Dua) was once held by the US in Camp Bucca Iraq. al-Baghdadi
was captured by U.S. forces in Iraq, but released by the Obama Administration in 2009
. On his way to a visit to North Dakota, President Barack Obama held a brief statement and exchange with reporters on The White House lawn. Unfortunately for the President, events are deteriorating so fast around Baghdad, it may be too late for the United States to do anything before the ISIS/Sunni insurgents take the Iraqi capital. Reporters didn't ask specific questions about the failure of Obama to leave U.S. combat troops in Iraq after 2011 or his failure to complete a Status of Forces Agreement with the Iraqi government.