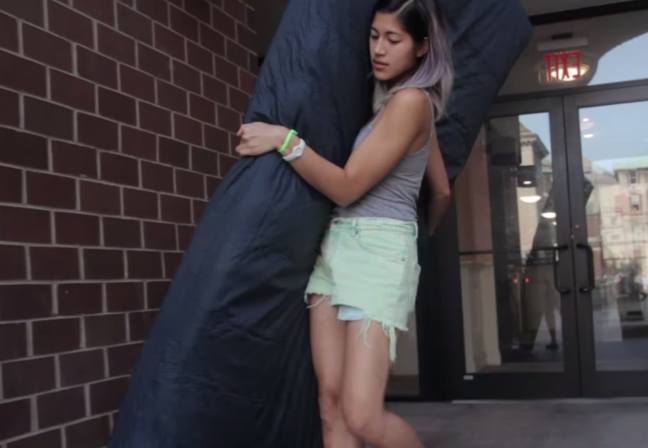 September 06, 2014
71 Comments
on
This is a thing that's actually happening at Columbia University in New York City. Rather than taking her allegations of rape to local law enforcement, Emma Sulkowicz has decided to carry around her mattress as long as her alleged rapist remains on campus. Sulkowicz didn't report the rape immediately after it happened, but was convinced to report the alleged incident months later. The case was ultimately dismissed by university authorities. According to the
Columbia Spectator
:
As long as her alleged rapist goes to Columbia, Emma Sulkowicz, CC '15, plans on carrying a navy blue, extra-long twin-sized mattress wherever she goes.

Entitled "Carry That Weight," the mattress is both the visual art major's senior thesis and a step in her journey to come to terms with her experience. Over the past year, Sulkowicz has become a prominent critic of the University's sexual assault adjudication policies, retelling her story to various administrators and media organizations to raise awareness.

"The past year of my life has been really marked by telling people what happened in that most intimate and private space," Sulkowicz said, referring to the dorm bed where she was allegedly raped on the second night of her sophomore year.

"I was raped in my own dorm bed and since then, that space has become fraught for me. I feel like I've carried the weight of what happened there since then," she added.

Months after her alleged rape, Emma reported the incident to the school. Her case, one of three individual complaints filed against the same student, was closed, and her rapist found "not responsible." She appealed, but it was denied and the decision was upheld.
Sulkowicz has turned what she says was a horrible tragedy into performance art.
Performance art that will suffice as her senior thesis. A fact I'll just leave there without commenting on further:
Sulkowicz plead her case to the university. But why didn't she go to the police?