Posted by
William A. Jacobson
Friday, December 6, 2019 at 9:15pm
| 12/6/2019 - 9:15pm
Lis Smith calls on Warren to open "up the doors to the decades of tax returns she's hiding from her work as a corporate lawyer – often defending the types of corporate bad actors she now denounces"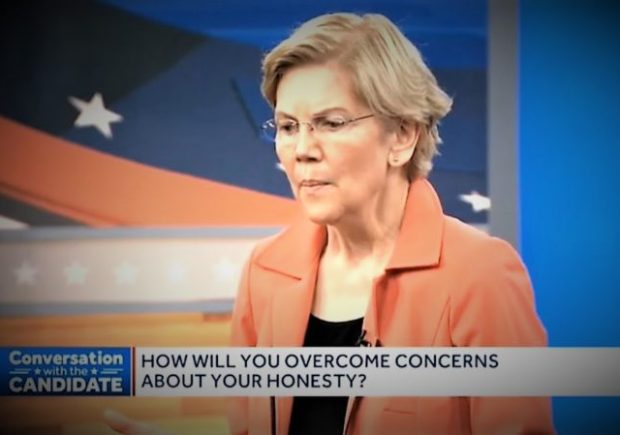 Since 2012, we have covered Elizabeth Warren's years representing large corporations against the interests of employees and others Warren now claims to champion. Warren likely earned millions of dollars in compensation, but never has disclosed those amounts.
Indeed, our research led the way, with even The Washington Post recently crediting us for unearthing Warren's legal representation of Dow Chemical against women claiming damages for breast implants.
See these posts at Legal Insurrection from October and early November 2012, and more recently:
I appeared on Tucker Carlson Tonight last July to talk about Warren's corporate law practice:
Yet not a single Democratic candidate has raised the issue, much as they inexplicably have ignored Warren's Native American deception.
I thought Tulsi Gabbard would take down Warren over these issues much as Gabbard eviscerated Kamala Harris' campaign hopes. But alas, Tulsi hasn't risen to the challenge, at least not yet.
But Pete Buttigieg may be willing to go there. Warren has been attacking him for not disclosing the clients he worked for when he was at McKinsey & Co. consulting firm, and for private fund-raisers.
Buttigieg's Senior Advisor for Communications, Lis Smith, has hit back, pointing out Warren's secrecy over her corporate legal practice and the money she made.
If @ewarren wants to have a debate about transparency, she can start by opening up the doors to the decades of tax returns she's hiding from her work as a corporate lawyer- often defending the types of corporate bad actors she now denounces.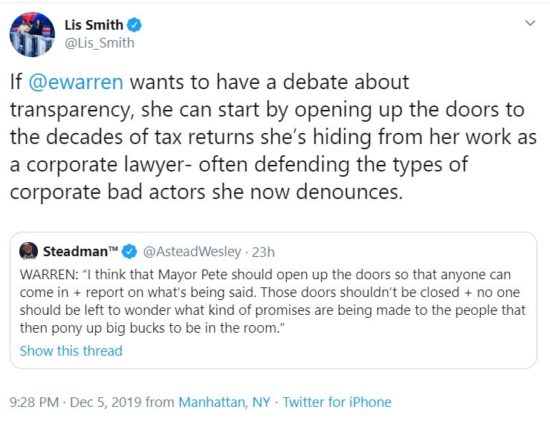 Warren has been dropping in the polls, after gaining momentum through the summer and fall. Her Medicare for All plan, and the ludicrous tax plan she proposed to pay for it, have damaged her tremendously.
Warren's corporate legal practice, Native American deception, and other dubious personal narratives could be a death blow to her campaign if raised on the debate stage before a national audience.
But someone needs the guts to do it.
[Featured Image: YouTube]