Posted by
Fuzzy Slippers
Friday, August 23, 2019 at 7:00pm
| 8/23/2019 - 7:00pm
"Defendants' statements were false, malicious and fabricated, and were published with a knowing, intentional, subjective awareness of, and/or reckless disregard of, their falsity"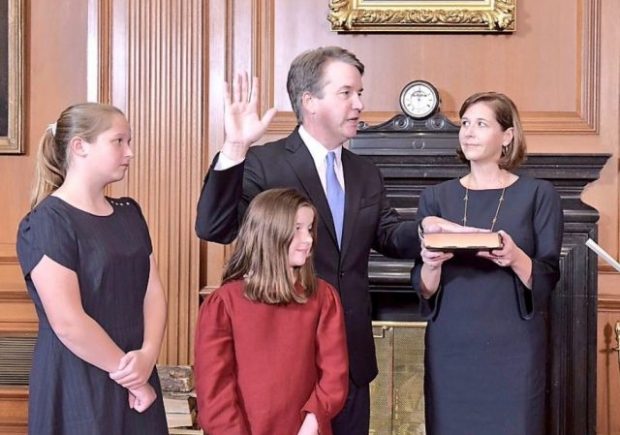 Here at LI, we covered the Brett Kavanaugh confirmation extensively, including the wild and ultimately debunked accusations against Justice Kavanaugh.
The media frenzy was as disgusting as it was illuminating.  The leftstream media fully embraced its role as partisan social justice warriors and worked hard to derail Kavanaugh's confirmation despite the ludicrous nature of the unsubstantiated claims against him.
Derrick Evans, one of Kavanaugh's former classmates, is now suing the Huffington Post in relation to their role in the frenzy.  According to the filing,  HuffPo allegedly engaged in the fabrication of sources and evidence and to have defamed Evans in the process.
A Mississippi man sued the Huffington Post on Wednesday, claiming it defamed him in an article last fall that named him as a purchaser of the cocaine that led to the 1984 death of David Kennedy, a son of former Senator Robert F. Kennedy.

Gulfport resident Derrick Evans, a graduate of the elite boarding school Georgetown Prep in the 1980s, also sued HuffPost senior reporter Ashley Feinberg, accusing her of fabricating anonymous sources and affidavits to create a salacious story about the school's wild party culture in the aftermath of the contentious confirmation hearings of Supreme Court Justice Brett Kavanaugh.

"In HuffPost and Feinberg's zeal to embellish a salacious article about Justice Kavanaugh's years at Georgetown Prep and to capitalize upon the controversy surrounding his confirmation hearing and thereby drive traffic to its website, they fabricated the false claim that Douglas Kennedy and Derrick Evans 'helped score' the illegal narcotics that killed Douglas's older brother David in April 1984," Evans says in the federal lawsuit.

He claims the HuffPost published the Sept. 20, 2018 article, "Former Student: Brett Kavanaugh's Prep School Party Scene Was a Free-For-All," knowing the statements about him were false.

"Neither Mr. Evans nor Mr. Kennedy had helped purchase, or to use Ms. Feinberg's word, 'score,' any cocaine for David Kennedy," the 17-page lawsuit states.
Additionally, HuffPo reportedly made no attempt to contact Evans for comment or verification prior to publication.
Courthouse News continues:
Evans claims that neither Feinberg nor any of her HuffPost editors attempted to contact him for comment even after being informed that their original statements about David Kennedy helping to acquire the cocaine were false.

Evans, a teacher with ties to Boston, says Feinberg actually had no source informing her of the allegations, and that no affidavit supporting those claims "obtained by The New York Times" exists.

"Ms. Feinberg fabricated the false story that Mr. Evans helped 'score' the cocaine for David Kennedy that resulted in his death," the complaint states.
Regarding the article in question, HuffPo reportedly "substantially edited the story, removing all references to David's death and expressing regret for mischaracterizing Evans's involvement."
"These statements were not only false and defamatory, but outrageously so, and were published by defendants with knowledge of their actual falsity or in reckless disregard of the truth for the apparent purpose of creating a salacious story designed to drive internet traffic to HuffPost's website," the lawsuit said.

. . . . The lawsuit said in HuffPost's zeal to create a sensational article about Kavanaugh's years at Georgetown Prep and thereby drive traffic to its website, it fabricated the claim that Kennedy and Evans  "helped score" the illegal narcotics that killed Douglas Kennedy's older brother, David, in April 1984.

"Defendants had no sources to support their outrageously false and defamatory statements about Derrick Evans and Douglas Kennedy. Nor did Defendants make any effort whatsoever to contact Mr. Evans for comment before accusing him of not only of committing a crime, but of being responsible for the death of David Kennedy," the lawsuit said. "Indeed, if Ms. Feinberg or her HuffPost editors had done even the most basic research of publicly available sources, she and they would have known, if they did not already know, that Mr. Evans actively assisted law enforcement in identifying and prosecuting the individuals who actually sold the illegal narcotics."

The lawsuit said HuffPost ran a correction, but the correction also contained false information. HuffPost eventually changed the story removing any reference to Evans and the Kennedy brothers.
According to the Sun Herald, statements within the original version of the HuffPo article were not only false but malicious and caused harm to Evans, who is seeking unspecified damages.
"Defendants' statements were false, malicious and fabricated, and were published with a knowing, intentional, subjective awareness of, and/or reckless disregard of, their falsity," Evans' attorney, John Sneed, said. "Plaintiff has suffered damages as a result of the Defendants' statements, including emotional distress and harm to his reputation."

The lawsuit is seeking damages, including punitive, but doesn't state an amount sought.
For its part, HuffPo has responded to requests for comment by stating, "We do not comment on pending litigation."