Posted by
Kemberlee Kaye
Wednesday, February 13, 2019 at 7:00pm
| 2/13/2019 - 7:00pm
No evidence students were chanting "Build the Wall"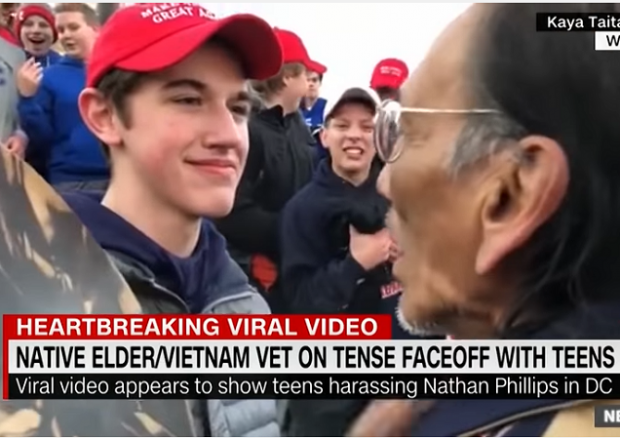 An independent investigation published February 11 found that Covington Catholic High School students were not the disruptors the media wished them to be.
Greater Cincinnati Investigation (GCI) was retained by the law firm representing the Covington diocese and Covington Catholic High School.

GCI devoted 4 licensed investigators who spent 240 hours pouring over social media posts, local media reports, statements, and interviewing everyone they were able to contact.
Cincinatti.com summarized the findings of the report thusly (detailed findings in the full report at bottom of post):
Here's what the investigation found:

No evidence was found that students performed a "Build the Wall" chant or made racist remarks to the Black Hebrew Israelites or Phillips
Most of the students felt like (Phillips) was coming into their group to join in with the students' cheers, investigators said. None of the students said they felt threatened by Phillips and many stated they were "confused."
Video shows that some students performed a "tomahawk chop" to the beat of Phillips' drumming and some joined in with his chant.
Nine chaperones reported being present at the Lincoln Memorial when the main interactions took place. Investigators said video confirms at least five chaperones were present.
Chaperones said they didn't feel that students were in danger or threatened.
In regards to the "It's not rape if you enjoy it" video, investigators said the man in the video was not a Covington Catholic student.
In regards to the 7-second video of two students making comments to two women, investigators said they could not determine if the students were from Covington Catholic.
Phillips, who milked the confrontation for every possible ounce of media exposure was unreachable. I'm sure you're just as shocked as I am.
Full report here:
Covington Catholic High Sch… by on Scribd
Our previous coverage of this story is here:
The Covington Boys and the Politicization of Childhood
Covington Student Nick Sandmann's Lawyers Send Preservation Letters to Media, Celebrities
Princeton Prof Says Covington Kids Are Symbol of White Privilege
It wasn't just left-media who joined in the Buzzfeed and Covington misreporting
Dartmouth Prof Has 'No Problem' With Somebody Doxxing Covington Students
Rep. Ilhan Omar Attacked Covington Catholic Students, Defended Hate Group
Behar: People Smeared the Covington Students 'Because We're Desperate to Get Trump Out of Office'
WAPO Corrects Covington Smear Story to Say Native American Activist Didn't Fight in the Vietnam War
Nathan Phillips Continues to Play Victim in NBC Interview
"The lesson anybody on the right needs to learn, is you need to have your own video cameras running"
Nathan Phillips Attempted to Disrupt Mass at D.C.'s National Shrine
Kentucky Student Speaks Out: 'I Will Not Stand for This Mob-Like Character Assassination of my Family's Name'
Media Narrative of "Catholic MAGA high schoolers mob Native American elder" doesn't hold up to video scrutiny