Posted by
William A. Jacobson
Sunday, November 11, 2018 at 10:00am
| 11/11/2018 - 10:00am
"She's eager to help out Nelson and Florida Democrats to gain important brownie points in the party for her own expected White House campaign."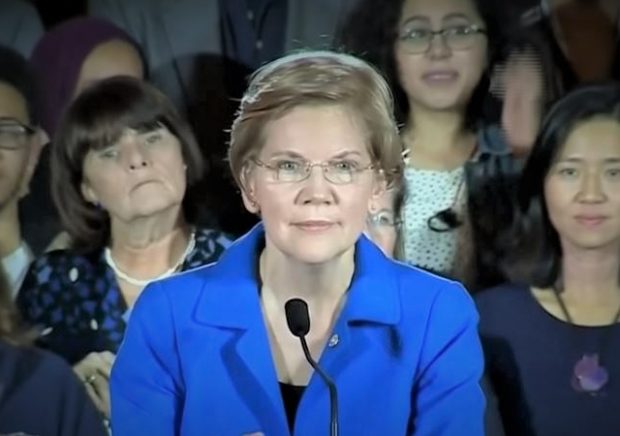 Elizabeth Warren, having won reelection to the Senate easily, already is shifting into presidential campaign mode, though she is playing coy as to when she will formally announce.
Warren is trying to exploit the Florida recount, as Joe Battenfeld at The Boston Herald reports:
Just days after her re-election win in Massachusetts, U.S. Sen. Elizabeth Warren turned her eyes to the presidential swing state of Florida, making a pitch to raise money for a Senate recount.

It's the latest in a series of moves by Warren to inject herself into an important presidential primary state.

Warren sent a fundraising appeal to her supporters, urging them to donate to help Democratic Sen. Bill Nelson's bid for a recount in his narrow loss on election night to Republican Rick Scott.

"Bill Nelson will need an army of volunteers and lawyers to make sure every vote is counted fairly," she wrote. "And Bill Nelson's campaign has already spent every penny it could to get people to the polls on Tuesday. Will you dig deep one more time to support Bill Nelson's campaign?"

Warren is hoping the answer is yes, but her motives seem less than selfless. She's eager to help out Nelson and Florida Democrats to gain important brownie points in the party for her own expected White House campaign.

Florida is an influential early primary state and has long been a crucial battleground in presidential contests. Warren is hoping her fundraising pitch for Nelson will be remembered by Florida Democrats in 2020.
MassLive has more:
With Florida's controversial U.S. Senate race expected to head toward a recount, U.S. Sen. Elizabeth Warren, D-Massachusetts, urged supporters Friday to "help make sure every vote is counted fairly."

Warren sent a fundraising email to backers her own 2018 re-election bid, seeking contributions to help Democratic incumbent U.S. Sen. Bill Nelson keep his seat against Republican challenger Rick Scott.

Arguing that "the election's not over yet," the Massachusetts Democrat noted that if the margin between Nelson and Scott stays under 0.25 percent, the recount will be done by hand.

"Recounts cost money. Bill Nelson will need an army of volunteers and lawyers to make sure every vote is counted fairly. And Bill Nelson's campaign has already spent every penny it could to get people to the polls on Tuesday," she wrote. "Will you dig deep one more time to support Bill Nelson's campaign?"

Warren stressed that "it could make all the difference in the world" if Nelson wins the recount and Democrats keep another Senate seat in the GOP-controlled chamber.

"Don't forget: One vote in the Senate last year saved health care for tens of millions of Americans. And if we rack up one more win this year, we'll be that much closer to taking back the Senate in 2020 and beyond," she contended. "Controlling the Senate could come down to one race – and helping Bill Nelson win this year could clinch it."
There is little doubt that Warren is moving towards a formal declaration next year. She hopes she has put her Native American deception behind her with the carefully planned rollout of her DNA test results in October.
But the problem isn't going away, because no one (other than perhaps the Boston Globe) is buying her claim to be Native American, Not even the NY Times.
The New York Times ran an article celebrating the election of two Native American women to Congress, Deb Haaland from New Mexico and my former student Sharice Davids from Kansas.
The article focuses on the fact, as have many articles elsewhere, that Haaland and Davids are the first Native American women elected to Congress, Native Americans Score Historic Wins in Midterms After Years of Efforts: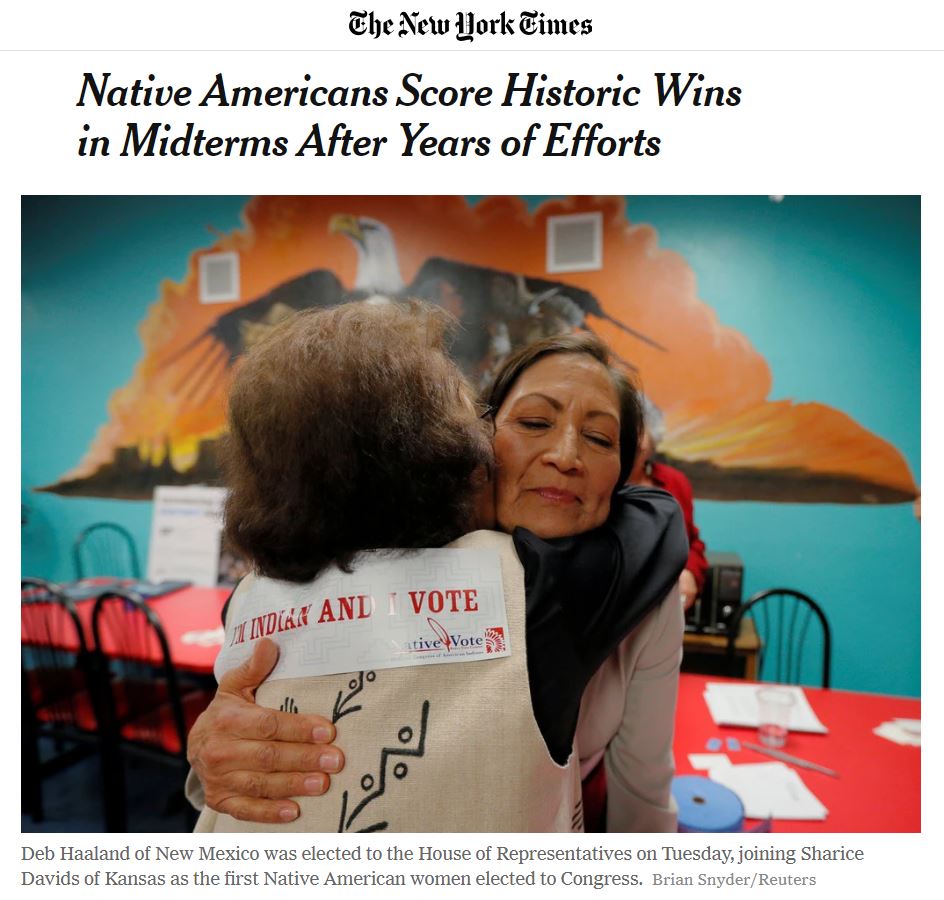 Two states sent the first Native American women to Congress. Another elected its first Native American lieutenant governor. A Navajo candidate won a pivotal county race in an area long dominated by a white minority.

Native Americans notched historic electoral wins on Tuesday, in a country where indigenous people were not granted the right to vote until 1924….

"The candidates themselves were just exceptional in this year's races," said Mellor Willie, a founder of 7Gen Leaders, a "super PAC" formed this year to bolster emerging Native American political leaders. "But it often comes down to money, and that's where we came in."

7Gen Leaders was a crucial source of financing for the two Native American women elected this week to the United States House of Representatives: Deb Haaland, Democrat of New Mexico, a community organizer and a member of Laguna Pueblo; and Sharice Davids, Democrat of Kansas, a former mixed martial arts fighter and a member of the Ho-Chunk Nation….
Notice who is not on the NY Times list? Elizabeth Warren, who already is in Congress. Doesn't the NY Times consider her Native American? After all, she took a DNA test which her selected expert said might show she's as much as 164th Native American or as little as 1/1024th, or not at all. (Of course, actual Native Americans reject DNA evidence as in any way relevant.)
Nope, apparently the NY Times is not counting Warren as Native American, as it listed others already in Congress who are Native American, and Warren again was not listed:
The election of Ms. Haaland and Ms. Davids will double the number of Native Americans in Congress. They will join two Republicans from Oklahoma, Tom Cole, a member of the Chickasaw Nation, and Markwayne Mullin, of the Cherokee Nation.
So I don't think the DNA test put Warren's Native American problem to bed:
When will Warren formally declare her candidacy? When her team of political consultants tells her to do so.
She's very Hillary-Clintonian, nothing is spontaneous or natural, she's preplanned and packaged. It flopped with the DNA rollout, but it's the story of her political career. And undoubtedly, her political consultants told her to pounce on the Florida recount.