Posted by
William A. Jacobson
Monday, September 8, 2014 at 7:30pm
| 9/8/2014 - 7:30pm
Tolerance was in short supply during the anti-Chick-fil-A protests in 2012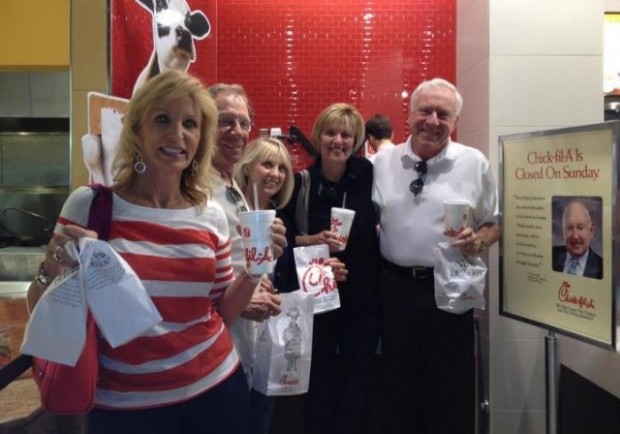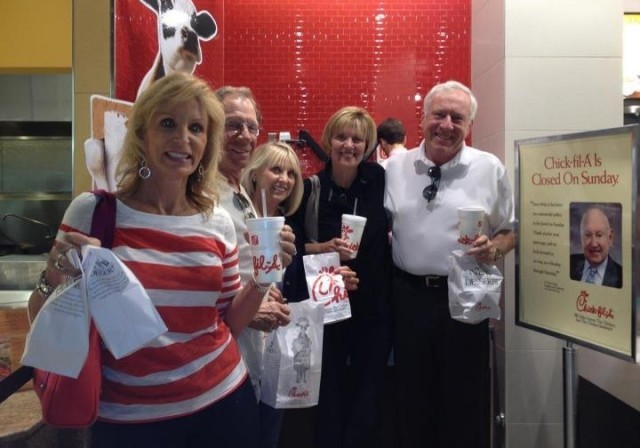 S. Truett Cathy, the founder of Chick-fil-A, died today at the age of 93.
The Wall Street Journal reports:
Mr. Cathy, an entrepreneur from an early age, built Chick-fil-A from a small diner founded in an Atlanta suburb 68 years ago into the top fast-food chicken chain in the U.S. Known for its grounding in the tenets of the founder's religious devotion as well as for its fried-chicken sandwiches, the closely held company has expanded to more than 1,800 stores in 40 states. Its sales have grown for 47 straight years, to $5 billion last year, Chick-fil-A says….

After some early setbacks, Mr. Cathy invented the original Chick-fil-A sandwich in 1964, considered to be the first fast-food chicken sandwich, and opened the company's first restaurant in Atlanta in 1967, according to a timeline on the company's website. He expanded the company in part by setting his restaurants in suburban shopping malls.

Throughout, Mr. Cathy emphasized Christian values. The chain's locations are closed on Sundays and play religious-themed music. Mr. Cathy founded a youth-ministry organization, WinShape Foundation, in 1984, which provides leadership training and college scholarships to young people. Through the foundation, 13 foster homes have been created to provide long-term care for foster children in a family setting.
Chick-fil-A drew attention when activist groups and local politicians tried to force Chick-fil-A out of some cities because of its founding family's views on marriage and charitable donations.
There never was an allegation of discrimination in the workplace — this was pure political retribution, a precursor to purges such as that against Brendan Eich.
We had extensive coverage of the anti-Chick-fil-A movement, including these posts:
The anti-Chick-fil-A protests turned ugly at times, as Anne's video showed when this street preacher wa "chaulked":
We covered Chick-fil-A Appreciation Day with many reader pictures, such as these:

Plus we prepared this map of locations of reader photos:

View Chick-fil-A Appreciation Day U.S.A. Interactive Map in a larger map (via Legal Insurrection)
A reader sent this video:
UPDATE:
@LegInsurrection Took this pic today on my lunch break at the original Chickfila in Hapeville, GA. pic.twitter.com/ni5o8IdJ6f

— Joanie Scott (@JstJoan) September 8, 2014
[Featured Image: Chick-fil-A Appreciation Day 2012, Legal Insurrection reader Lee, Newport Beach, CA)