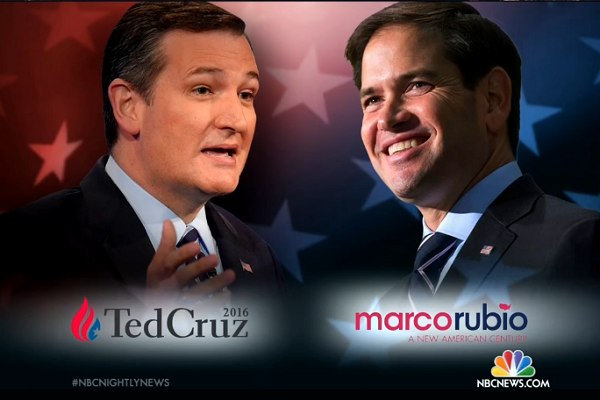 on
While Marco Rubio won his first state (Minnesota) and surged late in Virginia and Ted Cruz won his home state of Texas, Oklahoma, and Alaska for a total of four state wins, Donald Trump did very well in the Super Tuesday primaries.  So well, in fact, that conservatives are beginning to search in earnest for a means to win the GOP nomination with a conservative candidate. One such idea is being touted as the "
Unity
" ticket of
Cruz and Rubio
(or Rubio and Cruz, though this seems less likely). Writing at
The Resurgent, 
Erick Erickson argues for this in stark terms: "
Unite or Die
."
To truly beat Trump and keep his supporters from completely fleeing, Trump must be beaten in the primaries, not on the floor of the convention. And it is still mathematically possible, but it requires Cruz to win Florida, not Rubio. All of this talk by Rubio voters about later states, closed primaries, and favorability ignores voter psychology and, frankly, ignores the fact that Marco Rubio's Gang of Eight position has poisoned the well too much for too many Republican voters. It will, in fact, go down as one of the worse political miscalculations in the last quarter century. All of this talk by Rubio voters ignores that Rubio and Cruz together can win Florida and Ohio, but divided cannot and only increase the odds of either a Trump nomination or the delegitimization of the process by which the GOP will pick its nominee.