Posted by
Fuzzy Slippers
Monday, November 2, 2020 at 7:30pm
| 11/2/2020 - 7:30pm
CNN's John Dean: "What does it say about the USA under Trump when we have to board-up and employ extra security for commercial areas on election day?"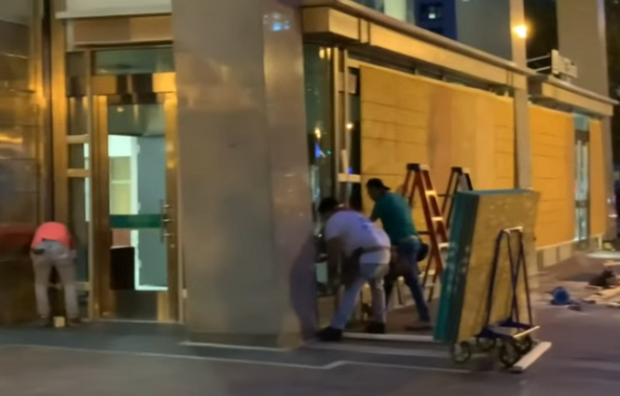 I wrote about DC boarding up ahead of Tuesday's election, and Mary wrote about other Democrat-run cities following suit.  The widespread destruction by Black Lives Matter, Antifa, and affiliated Democrat groups has been going on since the George Floyd protests devolved into urban crime sprees of vandalism, burning, looting, and murder.
Here's a sampling of what these Biden-supporting groups have wrought (via Twitchy) [Strong Language Warning]:
But but Trump caravans with giant flags! pic.twitter.com/Ec0p2c2i1S

— Digital Forests (@DigitalForests) November 2, 2020
But scary flags and trucks pic.twitter.com/dRHeRgAFTb

— Digital Forests (@DigitalForests) November 2, 2020
Even in light of the destruction of their cities, Democrats continued to pursue an agenda of abolishing / defunding the police.  Crime, predictably, escalated, but Democrats soldiered on undaunted.  Their media cohorts repeatedly and falsely claiming the violent riots were "mostly peaceful protests."
After months of lying to the American people about the nature of BLM, the existence of Antifa, and the widespread destruction these groups and others have wrought in Democrat-run cities, we shouldn't be surprised that they are lying again.  This time, they are claiming that President Trump is responsible for Democrat-run cities boarding up ahead of the election.
The implications are ridiculous. One is that Trump supporters, should he lose, will magically appear in these Democrat hellholes and start looting and committing arson.  This, despite the fact, that not one Trump supporter has engaged in anything of the kind.  It wasn't Trump supporters destroying Portland, Seattle, Kenosha, and it clearly wasn't Trump supporters during the Obama-Biden administration raining destruction during the Baltimore and Ferguson riots.  Leftists riot and topple statues, not Trump supporters.
The other implication is that Trump is responsible for the upcoming riots should he win reelection because his winning will "trigger" the violent leftwing mobs.  Or something.
The media wants Americans to be afraid of Trump and his supporters, though, so they are busily spinning their webs of lies and casting them wide.
Of all the crazy gaslighting we have seen from the media during the Trump era, perhaps none is more insane than the claim being pushed that DC is being boarded up for fear of riots by Trump supporters. https://t.co/oLG9vNWTxh

— Legal Insurrection (@LegInsurrection) November 2, 2020
A good example of how elites on the left have normalized political violence from others on the left — and the resultant destruction of property and peace, and possibly the republic itself. https://t.co/PoipbmeJUu

— Mollie (@MZHemingway) November 2, 2020
This is on you. This is what #BigMediaHateMachine has done to our country, on purpose.

It's the direct result of your network/corporate media outlets replacing rational policy arguments with irrational hatred and fear.

The most divisive force in this country is corporate media. https://t.co/BaWW2d3Kxd

— Peoples_Pundit (@Peoples_Pundit) November 2, 2020
It says that the anti-Trump movement is violent and dangerous https://t.co/fjmUj7Y0bp

— Legal Insurrection (@LegInsurrection) November 2, 2020
It says that the other side is filled by a bunch of immature jackasses who throw tantrums and break things when they don't get their way. https://t.co/0VMWtdaati

— Phineas Fahrquar (@irishspy) November 2, 2020
It says that people who condone violence because they don't like Trump are douchebags https://t.co/6CWVYuIKEu

— Ben Shapiro (@benshapiro) November 2, 2020