Posted by
Fuzzy Slippers
Saturday, October 31, 2020 at 4:00pm
| 10/31/2020 - 4:00pm
"DC is almost completely boarded up in the blocks surrounding the WH. And a Leftist group is preparing to shut down DC if Biden doesn't win."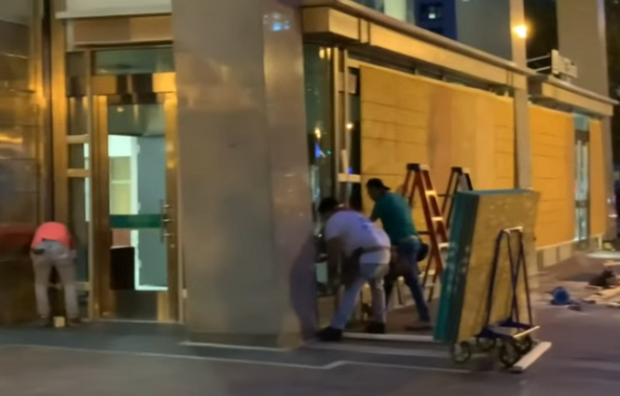 CNN's resident "fact checker" attempted to refute President Trump's statement that DC is "shutdown" and that the president may therefore move his Election Night party to the White House.  As is all too often the case, CNN is wrong and Trump is correct.
Businesses have been boarding up for days in anticipation of violence related to the November 3rd election.
Trump is just going around the country criticizing Democratic-run places for being shut down even though they are not shut down. https://t.co/3lZO0R20Cx

— Daniel Dale (@ddale8) October 30, 2020
DC is almost completely boarded up in the blocks surrounding the WH. And a Leftist group is preparing to shut down DC if Biden doesn't win. https://t.co/ZBi7zQIgec

— Brian Doherty (@BDOH) October 30, 2020
The BLM-affiliated "Shut Down DC" is organizing a range of left-wing activist groups to . . . well, shut down DC.
"We're getting ready for an uprising," sounds mostly peaceful! https://t.co/LorNRWMfe8

— Brian Doherty (@BDOH) October 30, 2020
Watch the report:
The Washingtonian is in mourning for our possible "failed state" as reflected in the boarded up businesses, USAToday observes that it's not just DC boarding up ahead of the election, and even the entertainment-focused outlet TMZ noted that DC establishments are boarding up in preparation of "election violence."
There are many such stories at numerous outlets, so maybe it's just CNN's "fact checker" who is unaware of this fact?