Posted by
Mary Chastain
Wednesday, September 16, 2020 at 3:00pm
| 9/16/2020 - 3:00pm
The Lancaster police arrested the rioters at 3 a.m. after a mob marched to the "police station, chucking glass bottles, rocks, bricks, gallon jugs filled with liquid and plastic road barricades at cops."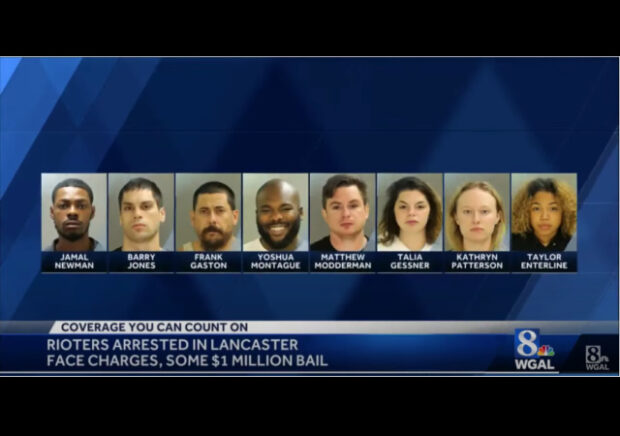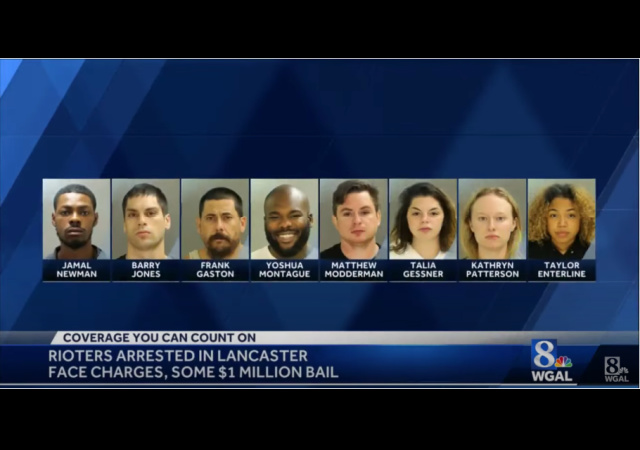 People rioted after a cop shot Ricardo Munoz, even though the body camera proved he charged at the cop with a knife.
Magisterial District Judge Bruce Roth set bail at $1 million for six of eight people arrested Monday morning.
The Lancaster police arrested the rioters at 3 a.m. after a mob marched to the "police station, chucking glass bottles, rocks, bricks, gallon jugs filled with liquid and plastic road barricades at cops."
From The New York Post:
Twelve adults — Jamal Shariff Newman, 24, Barry Jones, 30, Frank Gaston, 43, Yoshua Dwayne Montague, 23, Matthew Modderman, 31, Talia Gessner, 18, Kathryn Patterson, 20, Taylor Enterline, 20, T-Jay Fry, 28, Dylan Davis, 28, Alexa Wise, 29, and Jessica Marie Lopez, 32 — face a slew of felony and misdemeanor charges, including arson, riot, institutional vandalism and criminal conspiracy.

A 16-year-old boy was also busted on riot, disorderly conduct, possession of instruments of crime, possession of a small amount of marijuana, propulsion of missiles onto a roadway and institutional vandalism charges.

Montague, of York, Pa., faces an additional charge of illegal possession of a firearm.
One person did not meet eligibility for bail. Another rioter's docket has "not yet been updated."
Police arrested five other people, but "are still waiting for a judge to set bail."
Roth only said "that he considered Lancaster city police's input when setting bail." Lt. Bill Hickey stated that the "police did not request the bail amount." The District Attorney's office also did not offer any input:
The protesters are charged with several felony offenses, which are considered in the judge's equation when deciding bail, as well as the input of police.

"The crimes that these defendants are facing include serious felony offenses," Hickey said in an email. "This is not a new or unheard of practice and falls within the rules of criminal procedure."
Lancaster Stands Up alerted Democratic Lt. Gov. John Fetterman and other state officials about the bail amount. The group shared the story and a picture of Enterline, "who has been leading protests and advocacy in Manheim for the last several months."
Fetterman told Lancaster Online that the bail amount is unconstitutional and violates the Eighth Amendment. He wants Roth to reconsider his decision. Fetterman also wants it changed because he believes it will "further inflame and escalate what needs to be a peaceful protest and a resolution of the tragedy."