Posted by
Mary Chastain
Monday, September 14, 2020 at 11:00am
| 9/14/2020 - 11:00am
An excuse to riot: "Preliminary information and body worn camera footage indicates that the male subject had a knife in his right hand as he was chasing the officer."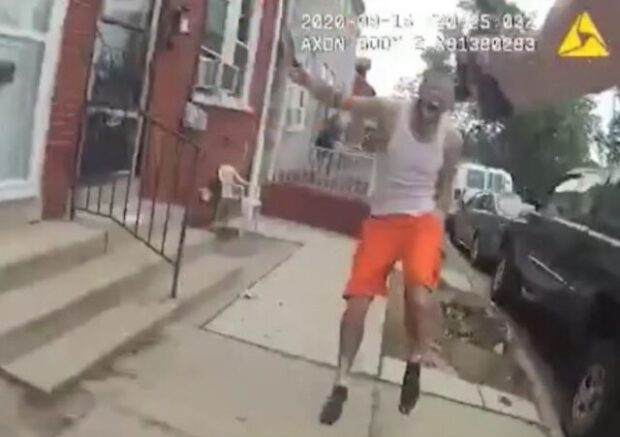 Riots and looting erupted in Lancaster, Pennsylvania, after a cop shot a man who charged at him with a knife.
The Lancaster Police released a statement:
The caller related that her brother was reportedly becoming aggressive with his mother and was attempting to break into her house. Several officers from the Lancaster City Bureau of Police responded to the call and the first officer arrived at 4:24 pm. The first officer on the scene walked to the front of the residence and made contact with a woman, who was identified as a family member. A male subject then exited the front door of the residence and began chasing the officer. Preliminary information and body worn camera footage indicates that the male subject had a knife in his right hand as he was chasing the officer. The officer fired several shots from his firearm, striking the subject.
The suspect did not survive. The cop was the only one at the scene, but he wore and activated his body camera.
Police identified him as 27-year-old Ricardo Munoz.
This is the bodycam footage of the officer-involved shooting in Lancaster, PA that Black Lives Matter is rioting over. The perpetrator charged at the police officer with a knife over his head with clear intent to strike. pic.twitter.com/xD72TweQK4

— Ian Miles Cheong (@stillgray) September 14, 2020
They arrested Munoz in 2019 after he stabbed four people and a standoff. I doubt the officer knew Munoz's history. Despite that, the footage shows the cop's life was in danger.
But that did not stop people from rioting and looting.
BREAKING: looting has started in Lancaster at Villa athletic store approximately 1 hour 50 minutes ago according to the shop owner

Groups of rioters are roaming the city breaking windows and stealing merchandise

It was too dangerous to follow them since there are no police pic.twitter.com/FQIH57hccy

— ELIJAH RIOT (@ElijahSchaffer) September 14, 2020
A man on a bicycle was riding away with loot and even threw a piece of stolen material at one of the rioters

Many more came to continue looting but the management had already arrive to attend to the store

No police were present

The manager declined to comment

— ELIJAH RIOT (@ElijahSchaffer) September 14, 2020
Black Lives Matter instigators geared up in Kevlar are talking about how there will be no peace until they get results "one way or another" in Lancaster. pic.twitter.com/NG64Qc3qHy

— Ian Miles Cheong (@stillgray) September 14, 2020
LANCASTER: BLM and Antifa are destroying shop windows and destroying planters

They keep asking each other out loud when they are going to start breaking stuff and looting stores in Pennsylvania pic.twitter.com/1yreEJg0Em

— ELIJAH RIOT (@ElijahSchaffer) September 14, 2020
BREAKING: BLM and Antifa start a dumpster fire at their barricade outside the Lancaster police precinct in Pennsylvania pic.twitter.com/qSXhZi6324

— ELIJAH RIOT (@ElijahSchaffer) September 14, 2020
BREAKING: arsonists are lighting fires in the streets in Lancaster and adding public trash bags as fuel at the BLM ✊🏿 riot pic.twitter.com/5Of9r9fGua

— ELIJAH RIOT (@ElijahSchaffer) September 14, 2020
https://twitter.com/ElijahSchaffer/status/1305399075676844032?ref_src=twsrc%5Etfw
Forbes Changed Riot to Protest
Oh my gosh, Forbes changed the word riot to protest within an hour pic.twitter.com/rtGAvO3rG2

— ELIJAH RIOT (@ElijahSchaffer) September 14, 2020
Caleb Hull has an excellent point
A police officer shot a man sprinting at him with a kitchen knife and they're now rioting in Lancaster, PA over it.

If we're ever going to get somewhere with justice, there has to be differentiation between justified and unjustified force. pic.twitter.com/5m0bgFuyuw

— Kelb Hull (@CalebJHull) September 14, 2020