Posted by
William A. Jacobson
Wednesday, February 19, 2020 at 7:00pm
| 2/19/2020 - 7:00pm
Trump wins the branding war: "Campaign officials tell @NBCNews that Mike Bloomberg will *NOT* stand on a box during tonight's debate, despite Trump's repeated claims that he requested one to boost his height"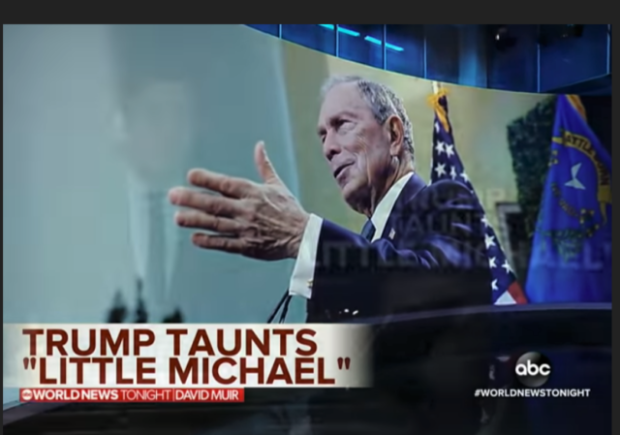 I can't get the image of Mike Bloomberg standing on a box out of my head, can you?
That imagery was painted by Trump when he claimed that "Mini Mike" wanted to stand on a box for debates.
Mini Mike is now negotiating both to get on the Democrat Primary debate stage, and to have the right to stand on boxes, or a lift, during the debates. This is sometimes done, but really not fair!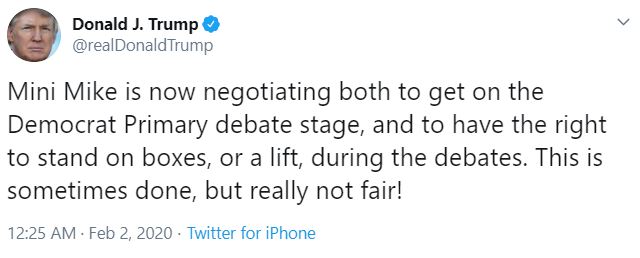 There's no evidence that Bloomberg asked for a box for the upcoming debates, but there is evidence he did so during speeches when he was Mayor of New York City.
But as with so much of Trump's branding, he took something with some relationship to some reality, and turned it into a brand for an opponent. Jeb Bush may not *literally* have had low energy, but Low Energy Jeb was close enough to reality to stick. Same with Crooked Hillary (though the relationship to reality was close there), Little Marco, and most famously, P***hontas Warren.
Bloomberg was furious with the focus on his height, so much so that his campaign retaliated by attacking Trump's "fake hair, his obesity, and his spray-on tan."
This is a fight Trump will win every single time. Just ask Presidents J. Bush, H. Clinton, and M. Rubio.
The best evidence that Trump has won the branding war against Bloomberg is that Bloomberg's campaign felt to confirm to NBC News that Bloomberg will not be standing on a box at tonight's Las Vegas debate:
NEW: Campaign officials tell @NBCNews that Mike Bloomberg will *NOT* stand on a box during tonight's debate, despite Trump's repeated claims that he requested one to boost his height