Posted by
Fuzzy Slippers
Saturday, December 15, 2018 at 6:00pm
| 12/15/2018 - 6:00pm
Omar already caused controversy with anti-Semitic tweets and support for Israel boycott, now she goes after Christians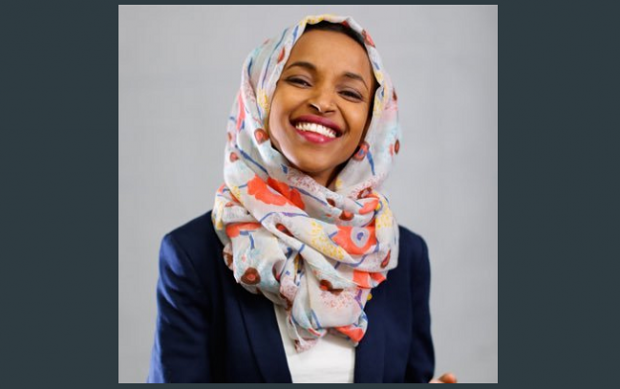 Representative-elect Ilhan Omar (D-MN) has demonstrated that she has no more use for Christians than she does for Jews.
In a remarkably snarky tweet devoid of any degree of self-awareness, she mocks Vice President Mike Pence's Christian faith, but don't expect her to get the same treatment that conservative commentator Laura Loomer received when she was banned from Twitter for pointing out proven facts about Omar.
Omar, you may recall, is an avowed Islamist who has tweeted anti-Semitic conspiracy theories.
Israel has hypnotized the world, may Allah awaken the people and help them see the evil doings of Israel. #Gaza #Palestine #Israel

— Ilhan Omar (@IlhanMN) November 16, 2012
She also touts a favorite (and false) leftist-Islamist claim that Israel is an "Apartheid regime."
Drawing attention to the apartheid Israeli regime is far from hating Jews. You are a hateful sad man, I pray to Allah you get the help you need and find happiness. https://t.co/SvEXjlxlEN

— Ilhan Omar (@IlhanMN) May 31, 2018
Additionally, Omar is a proud supporter of the BDS movement that calls for a boycott, academic and otherwise, of Israel.
Perhaps it's unsurprising that someone so steeped in misguided and visceral hatred for Israel and the Jewish people would also disdain and mock Christians.
Jesus take the wheel! #BorderWall pic.twitter.com/aEPle6HFF1

— Ilhan Omar (@IlhanMN) December 11, 2018
Can you even begin to imagine the blow-back if a conservative Christian or Jewish representative-elect posted a tweet mocking Islam and Mohammed?
I wonder what would happen if Pence made fun of Omar's belief in Muhammad? https://t.co/V3FsSbwz8q

— David Harsanyi (@davidharsanyi) December 14, 2018
They'd not only get banned from Twitter but would be shamed, bullied, and harassed until they apologized and lost their job/career/livelihood (and lived under the threat of a fatwa).
Minnesota Democratic Rep.-elect Ilhan Omar is drawing fire for a tweet she posted Tuesday of Vice President Mike Pence along with the words, "Jesus take the wheel!"

Omar's headline also included the hashtag #BorderWall. The picture of Pence with his eyes closed was taken during Tuesday's explosive meeting between President Donald Trump, House Minority Leader Nancy Pelosi, and Democratic Sen. Chuck Schumer on the topic of border wall funding. Along with being a familiar saying to many Christians, the phrase "Jesus Take The Wheel," is also the name of country superstar Carrie Underwood's first number one song.
The comment did not go over well on Twitter.
You have Christianophobia

— kerry ⭐⭐⭐ (@K1erry) December 15, 2018
Bigot says what?

— Vilified Ostracized (@brakinggnus) December 15, 2018
Yes #JesusTakeTheWheel And continue helping president @realDonaldTrump and Vice President @mikepence To continue #MakingAmericaGreaterThanEver! #GodBlessOurLeaders! pic.twitter.com/TSX85KzHMh

— Delbert W Woodie (@DelbertWoodie) December 15, 2018
If you don't want folks attacking your faith, you should be very careful about mocking someone else's faith…particularly the @VP

— Mark J. Cain ن (@cainmarkj) December 15, 2018
"Blessed are those who are persecuted because of righteousness, for theirs is the kingdom of heaven." Matthew 5:10

— Janine Ridings (@JanineJaniner) December 15, 2018
"It's okay when we do it."

— TwoPiece (@twopiece55) December 15, 2018
One of my favorite persons on Twitter noted the vile hypocrisy of the Big Tech purging of conservatives from all forms of social media while allowing racism and religious bigotry directed at white Christians.
@TwitterSupport, any thoughts?

— Shaughn (@Shaughn_A) December 15, 2018
Keep in mind, Omar is a rising star in the Democrat Party, constantly in front of the cameras as the new face of Democrats.  Maybe that's a good thing . . . for Republicans.