Posted by
Fuzzy Slippers
Sunday, November 4, 2018 at 7:00pm
| 11/4/2018 - 7:00pm
"You may be surprised to hear he's a congressional candidate from Texas and not a hitman in a porno movie"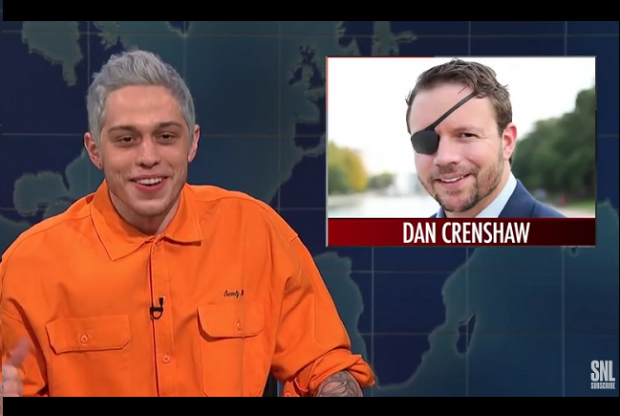 Saturday Night Live used to be funny.  Remember Roseanne Roseannadanna or Chevy Chase being politically incorrect on Weekend Update and the catchphrases that permeated our culture:  "Jane, you ignorant slut," "You look mahvelous," and "could it be . . . Satan?"?
SNL is no longer funny.  Case in point, this week they mocked Navy SEAL veteran Dan Crenshaw, a Republican congressional candidate who lost an eye in an IED explosion in Afghanistan.
Since the Vietnam War, liberals have been known for their great disdain for America's service members, despite their efforts to hide it. During NBC's latest edition of Saturday Night Live, that disdain poked its ugly head out in the form of supposed comedian Pete Davidson mocking Republican congressional candidate and former Navy SEAL Dan Crenshaw about the eye he lost to an IED blast while serving in Afghanistan, "or whatever" according to the funny man.

The vile attack came during the SNL's faux news segment "Weekend Update" where Davidson was mocking multiple Republican politicians for their looks. The comedian stated he'd "realized there are some pretty gross people running for office this year". When a picture of Crenshaw was put on the screen, co-star Michael Che blurted out: "Oh, come on, man!"

"Hold on," Davidson told him. "You may be surprised to hear he's a congressional candidate from Texas and not a hitman in a porno movie," he ridiculed Crenshaw to the uproarious laughter of the liberal crowd. "I'm sorry, I know he lost his eye in war or whatever." [emphasis in original]
He goes on to include a Democrat so that he "looks fair."  It doesn't work.
Here's the clip:
For his part, Crenshaw responded with class.
Good rule in life: I try hard not to offend; I try harder not to be offended. That being said, I hope @nbcsnl recognizes that vets don't deserve to see their wounds used as punchlines for bad jokes.

— Dan Crenshaw (@DanCrenshawTX) November 4, 2018
Crenshaw further told TMZ that he does not want and is not owed an apology for this insensitive "joke." Instead, he says we need to "get away from the culture of apology-demanding every time someone misspeaks."
Pete Davidson and 'SNL' don't owe GOP congressional candidate, Dan Crenshaw, a mea culpa for making a crack about his war-caused disability … according to the man himself.

We spoke with Dan — who's running for an open seat in Texas' second congressional district — and, somewhat surprisingly, he shoots down the idea that Pete and co. must issue an apology to him because they made an insensitive joke about his missing eye.

. . . . One person who's not outraged is Dan, who tells us he wants society to get away from the culture of apology-demanding every time someone misspeaks.

Check out his take — it's quite nuanced, and he's definitely taking the high road.
Watch:
A class act indeed.