Posted by
Mary Chastain
Friday, October 5, 2018 at 2:45pm
| 10/5/2018 - 2:45pm
Kavanaugh likely to be confirmed on Saturday, though anything could happen between then and now.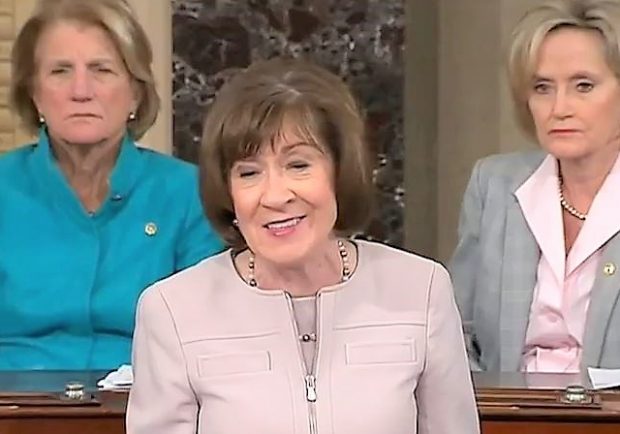 (Updated by WAJ)
Sen. Susan Collins (R-ME) voted to invoke cloture on the debate on Supreme Court nominee Judge Brett Kavanaugh this morning.
In one of the most extraordinarily intelligent and thoughtful speeches I've ever heard from the Senate floor or elsewhere, Collins announced that she would vote in favor of Kavanaugh.
Here's Collins' almost 45 minute speech (prepared text of speech here)
Collins: "We must always remember that it is when passions are most inflamed that fairness is most in jeopardy. The presumption of innocence is relevant to the advice and consent function when the accusation departs from a nominee's otherwise exemplary record."

— Jeremy Diamond (@JDiamond1) October 5, 2018
Collins basically defending the foundation of western civilization and the legal system on the Senate floor.

— Carl Paulus (@CarlPaulus) October 5, 2018
"I found [Christine Blasey Ford's] testimony to be sincere, painful and compelling. I believe that she is a survivor of a sexual assault and that this trauma has upended her life. Nevertheless, the four witnesses she named could not corroborate any of the events," Collins said. pic.twitter.com/Fwav18AXWA

— POLITICO (@politico) October 5, 2018
Collins: Christine Blasey Ford's allegations against Brett Kavanaugh "fail to meet the 'more likely than not' standard. Therefore, I do not believe that these charges can fairly prevent Judge Kavanaugh from serving on the court." pic.twitter.com/UF20WhXlEW

— Axios (@axios) October 5, 2018
NEGATIVE REACTIONS
Susan Collins turns her back on women who have been traumatized by sexual assault. Elections have consequences. To start turning the ship of state back towards the rule of law, decency, truth, and the preservation of Democracy, Nov.6 has to be a lot more than a blue wave. VOTE!!!

— Rob Reiner (@robreiner) October 5, 2018
Susan Collins is basically playing the Rachel Mitchell role in the GOP's confirmation vote: drawing the attention to her to pull it away from her overwhelmingly male Senate GOP colleagues, to manage the optics.

— Ben Wikler (@benwikler) October 5, 2018
What you're hearing from Susan Collins is a helpful reminder that there are few ideological differences between Republicans. Collins, McConnell, Flake, Graham,Trump… very little daylight there beyond style and manners.

— Joy Reid (@JoyAnnReid) October 5, 2018
This is not a "on the one hand, on the other hand" speech. Collins is all-in on Kavanaugh, invoking his camp's suggested arguments to rebut each and every criticism of him. Hard to believe she was ever seriously open to opposing him. She will own his decisions.

— Brian Fallon (@brianefallon) October 5, 2018
.@SenatorCollins is channeling Donald Trump. Entirely disingenuous and shameful. Where was she when Judge Garland could not even get an up or down vote? This is all about her post-office job opportunities on K street. We shall never forget. Not in Nov. Not in 2020. Not ever.

— Michael Avenatti (@MichaelAvenatti) October 5, 2018
As a Buddhist it is my practice to have compassion for all people. But @SenatorCollins is really testing my limits right now.

— George Takei (@GeorgeTakei) October 5, 2018
EARLIER COVERAGE
Sen. Jeff Flake (R-AZ) told reporters he is a yes on Kavanaugh unless new developments emerge.
Sen. Lisa Murkowski (R-AL) didn't flat out said no, but she leads you to believe it's a no from her in a statement she gave after she voted no on cloture.
Sen. Joe Manchin (D-WV) voted yes on cloture, but we still don't know how he will vote tomorrow.
Fox News' Chad Pergram provided these 5 scenarios:
1) 5 different scenarios on the fate of Kavanaugh. Predicated on the idea that all 100 senators are present. GOP MT Sen Daines will return to DC to vote yea from his daughter's wedding in DC if his vote is necessary.

— Chad Pergram (@ChadPergram) October 5, 2018
Kavanaugh Scenario 1):
If Collins is a YES, either Manchin or Murkowski need to be yeas. That's 51 yeas.

— Chad Pergram (@ChadPergram) October 5, 2018
Kavanaugh Scenario 2):
If Collins is a YES, and Manchin AND Murkowski are both noes, that means there are 50 yeas. The Senate can confirm Kavanaugh with a tie-breaking vote by Vice President Pence.

— Chad Pergram (@ChadPergram) October 5, 2018
Kavanaugh Scenario 3):
If Collins is NO, Manchin is a YES and Murkowski is a NO, that means are there are 50 yeas. The Senate can confirm Kavanaugh with a tie-breaking vote by Vice President Pence

— Chad Pergram (@ChadPergram) October 5, 2018
Kavanaugh Scenario 4):
If Collins is a NO, Manchin is a NO and Murkowski is a YES, that means there are 50 yeas. The Senate can confirm Kavanaugh with a tie-breaking vote by Vice President Pence

— Chad Pergram (@ChadPergram) October 5, 2018
Kavanaugh Scenario 5):
If Collins is a NO, Manchin is a NO and Murkowski is a NO, that means there are 49 yeas. The nomination will fail

— Chad Pergram (@ChadPergram) October 5, 2018