Posted by
William A. Jacobson
Wednesday, December 20, 2017 at 8:15pm
| 12/20/2017 - 8:15pm
Long history of sending children to confront soldiers hoping for a reaction, as the cameras roll.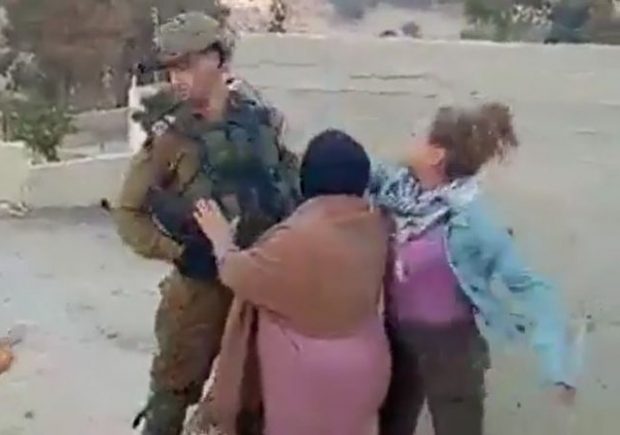 Dave Lange of the IsraellyCool website coined the nickname "Shirley Temper" for Ahed Tamimi, of the Tamimi Clan of Nabi Saleh.
While the nickname is humorous, the underlying reality of the video exploitation of Palestinian children by the Tamimi Clan, lauded by Western anti-Israel activists, is not funny at all.
As we have thoroughly documented over the years, the Tamimis, led by father Bassem Tamimi, regularly send children to try to provoke a confrontation with Israeli police and soldiers in order to get a reaction that will be captured on video and in photos.
The children are accompanied by a phalanx of videographers and photographers just waiting to turn the video and images viral. This video, shows how it's done. (For this performance, Ahed gained international fame, and was awarded a medal by the anti-Israel, anti-Semitic Turkish Prime Minister Recep Tayyip Erdogan).
Another Tamimi Clan child, Janna Jihad, has been used since she was 5 years old in such staged scenes. It's an extremely callous exploitation of children, hoping the children will be the subject of retaliatory violence for propaganda purposes.
In these posts (among others) we presented video, images and social media proof of this Tamimi child exploitation, and how it is leveraged by anti-Israel activists in the U.S., particularly Jewish Voice for Peace and Ariel Gold, an anti-Israel extremist who now works for Code Pink:
Ahed is sufficiently famous in anti-Israel circles in the U.S. that she has been featured in a national tour, as Prof. Miriam Elman documented in More Anti-Israel Propaganda in Mainline Churches: "Living Resistance Tour".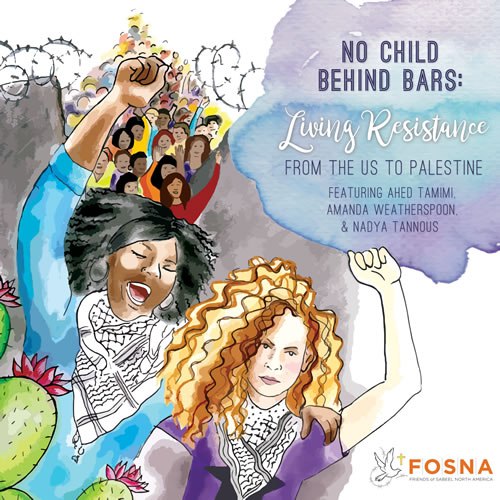 Ahed and the Tamimis are back in the news due to the latest video provocation involving Ahed, reportedly 16 (though she might be older)(the Daily Mail lists her as 17), and 21-year-old relative Nour Tamimi.
This video, which has gone viral, shows the girls kicking and punching Israeli soldiers, as one of the girls held her cell phone cameras to record. Clearly they hoped for a violent reaction, but it didn't happen.
This shows it from a different angle:
Remember Ahed Tamimi who kicked out two IOF soldiers that wanted to break into her house in Nabi Saleh village in #Ramallah? Ahed and her mother were kidnapped from their house today in a predawn raid. pic.twitter.com/0l4iy11O7I

— #FreePalestine ???????? (@Taghreeba) December 19, 2017
Haaretz reports on the incident:
The video, filmed during the weekly protest held in the village on Friday, shows Tamimi assaulting the soldiers in an attempt to draw a response. Other women are seen in the clip, including one filming the incident, who also attacks the soldiers later. The soldiers did not respond to the attacks by Tamimi and others.

The clip, which was filmed by someone standing farther away from the incident, went viral on various social networks on Monday.

In the clip, Tamimi and another young woman approach one of the soldiers and Tamimi pushes and shoves him. After does not respond to the provocation, as it seems the women wanted, Tamimi continues to slap and kick him. She also comes up to the other soldier and tries to assault him, as does the other young woman. Two older women join the two teenagers and also push the soldiers while Tamimi continues to attack them. The soldiers show restraint and do not respond in any way.

Before the beginning of the events seen in the film, Palestinians threw rocks at soldiers from inside a house in Nabi Saleh, said the IDF. The soldiers then removed the rock throwers from inside the house and refused to let them reenter. At this stage, "a number of Palestinians came out to the soldiers with the goal of causing a provocation," said the army.
The Washington Post has covered the story, picking up on the "Shirley Temper" nickname: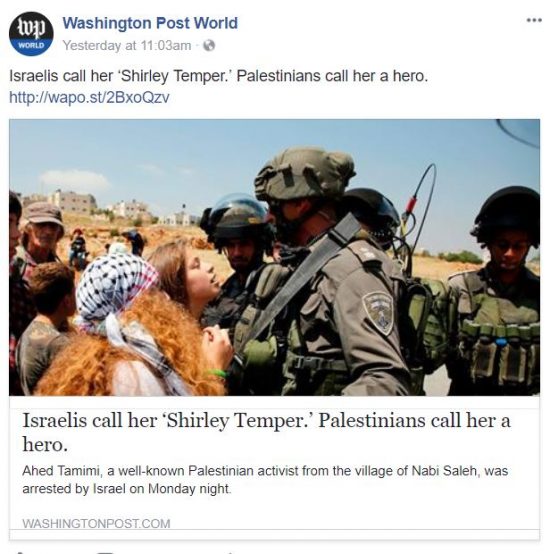 Israelis call her 'Shirley Temper' and say she epitomizes 'Pallywood,' or Palestinian propaganda attempts to discredit Israel. Palestinians call her a hero, for fearlessly standing up to those who enforce the Israeli occupation of their land and those who terrorize her village.

Her real name is Ahed Tamimi. And a video of her confronting or provoking Israeli soldiers — depending on how you look at it — has gone viral.

Again.

Tamimi, 16, is a well-known Palestinian activist from a well-known activist family. She lives in the village of Nabi Saleh, in the occupied West Bank, where weekly demonstrations have become common scenes of clashes between Palestinian stone throwers and Israeli troops. The villagers accuse Israel of expropriating their lands in favor of the nearby Jewish settlement of Halamish.

On Friday, the army said, soldiers were in the village to contain a riot involving some 200 people, including the Tamimis. Some of the rioters, the army said in a statement, entered a nearby house and continued to throw rocks at troops. Then, it said, Tamimi and some women exited and started to "violently provoke" the soldiers.

Tamimi, her wild locks swept up in a hair band, can be seen on film slapping and kicking a soldier, as another young woman captures the exchange on her smartphone.
Bassem Tamimi is claiming Ahed was upset because her cousin earlier had been hit by a rubber bullet during riots. But don't take anything Bassem says as the truth. He is someone who spreads anti-Semitic blood libels and incitement, as we reported in Incitement: Bassem Tamimi spreads claim Israel arrests Palestinian children to harvest organs.
The Times of Israel reports that Ahed and Nour were arrested that night, and a judge has ordered Ahed held for six days during investigation:
Explaining her decision, Judge Lidor Drachman of the Judea region Juvenile Military Court said that while Ahed Tamimi did not pose any danger, concern that the teen would try and obstruct the investigation justified keeping her locked up until next Monday.

"Despite the provocative and outrageous behavior of the suspect, given the limited risk she poses in addition to her young age, I was prepared to release her into an alternative detention," wrote Drachman.

However, he continued, he had changed his mind after being supplied with evidence that she was a serial offender and that releasing her would compromise the investigations.

"The confidential report submitted to the court indicates that a number of investigative actions remain, which require the suspect to continue to be held in custody," he wrote, adding that there was a "significant threat she would compromise the investigation."
Not surprisingly, anti-Israel activists and groups are organizing around the arrest. Notice how they use images of Ahed from when she was much younger.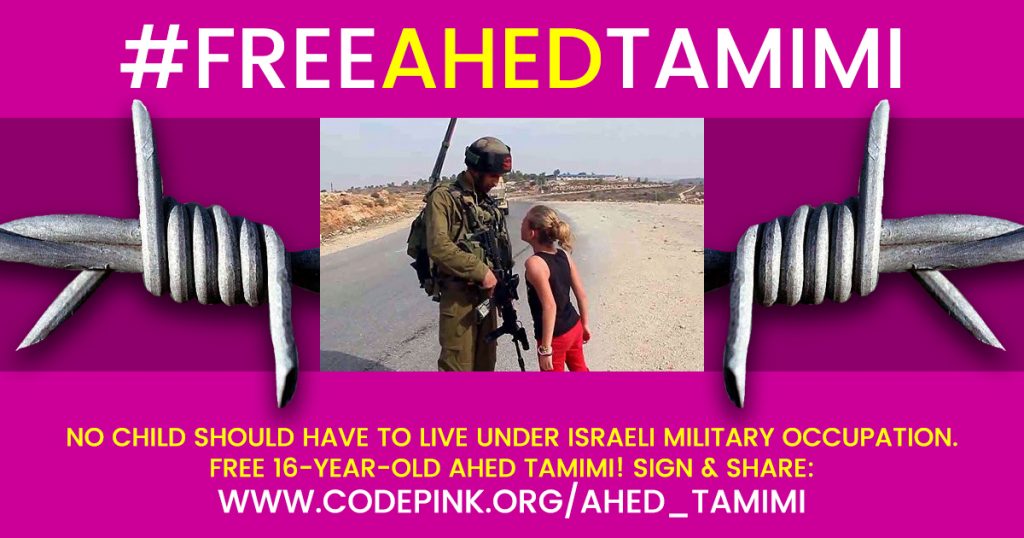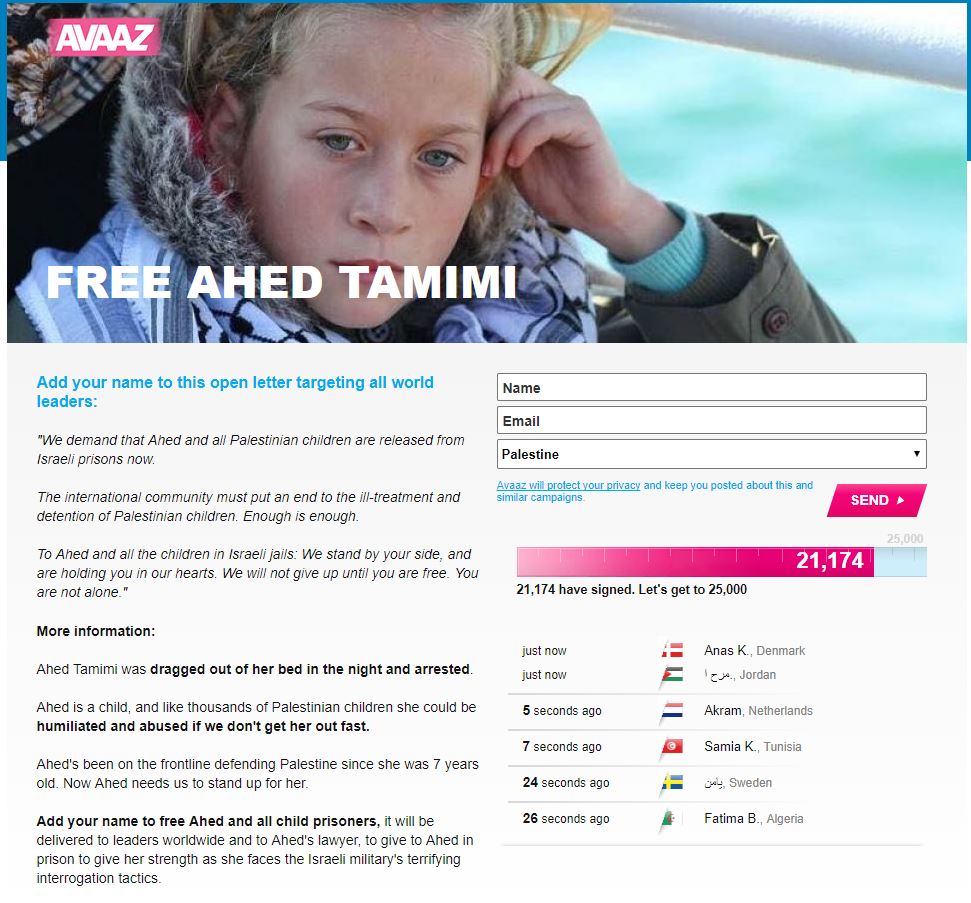 This California State professor also uses an image from when Ahed was much younger – it has been shared over 1000 times as of this writing: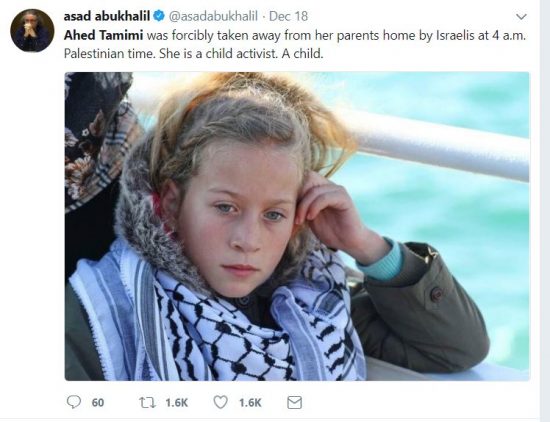 Tamimi supporters, like Ariel Gold, who brought Bassem Tamimi to a 3rd grade class to advocate against Israel, are adding a Ahed Tamimi frame to their Facebook featured images: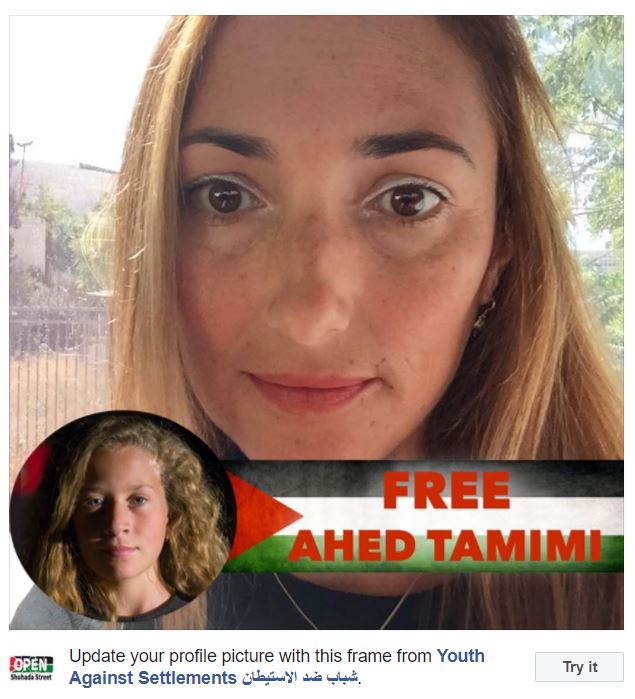 This proves how effective the child exploitation method works for the Tamimis — if the Israeli soldier reacts, it's a video or image seen around the world. If the Israeli soldier doesn't react, it's proof of how brave Palestinian children are. If the Israelis make an arrest of the teenager or adult, it's an organizing opportunity.
Ahed Tamimi is back in the spotlight. But that spotlight should be shining on exploitation of Palestinian children by the Tamimis and their Western supporters.