Posted by
Kemberlee Kaye
Tuesday, August 22, 2017 at 5:30pm
| 8/22/2017 - 5:30pm
"It has become increasingly clear in recent weeks that memorials such as this are hurtful to many residents in our community and elsewhere."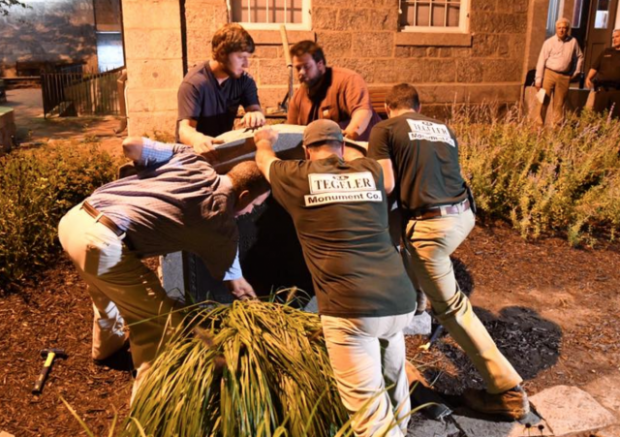 We've been following the Confederate removal mania since the Charlottesville riot. Maryland is the latest to join the party.
In the wee hours of Tuesday morning, a Confederate monument was removed from outside the Circuit Court in Ellicott City and donated to museum.
Howard Country Executive Allan H. Kittleman documented the removed on his official Facebook page:
Moments ago, the Confederate memorial located outside the Howard County Circuit Courthouse in Ellicott City was removed and will be donated to a local museum. I ordered the removal of the memorial late Monday after completing the historic review process. I filed a request with the Historic Preservation Commission to take this step on Aug. 16 but the process required a five-day public notice period before a decision could be rendered. Immediately after receiving approval, I took steps to remove the memorial.

It has become increasingly clear in recent weeks that memorials such as this are hurtful to many residents in our community and elsewhere. Given these feelings and the tragedy in Charlottesville, I felt compelled to remove this memorial from public property.

I believe the more appropriate place for the memorial is in a local museum, along with other artifacts and information on the Civil War. Preservation Howard County, an organization dedicated to saving Howard County's rich history, supports moving the memorial to a museum. County Council Chair Jon Weinstein encouraged the Howard County Historical Society to add the memorial to its Civil War collection.

We cannot and should not erase the past. We must learn from it. A museum offers context for us and for future generations to better understand our shared history.

Council Chair Weinstein says removing the memorial will affirm the county's commitment to ensuring public spaces are open and comfortable to all citizens and visitors. And, he says, the events last week in Charlottesville, renewed the urgency in removing the memorial.

"We can't forget that this symbol and symbols like this represent hate and cause many people pain," said Weinstein. "The monument is not representative of who we are as a community today and does not belong on grounds of a building that represents justice."

According to Maryland Historical Trust records, the memorial was dedicated on September 23, 1948, at a time when Howard County had a commissioner form of government. Howard County Circuit Court Judge William Henry Forsythe Jr., whose father's name is on the memorial, appears to have been responsible for accepting and placing the memorial on the grounds of the court house. No county officials played a role in the dedication.
Video of the monuments removal:
We've been covering the revisionist resurgence, now emboldened by the Charlottesville protests as they attempt to erase this country's past to sate the feelings of the ignorant.
Follow Kemberlee on Twitter @kemberleekaye