Posted by
Kemberlee Kaye
Monday, August 21, 2017 at 5:00pm
| 8/21/2017 - 5:00pm
"These events make it clear, now more than ever, that Confederate monuments have become symbols of modern white supremacy and neo-Nazism"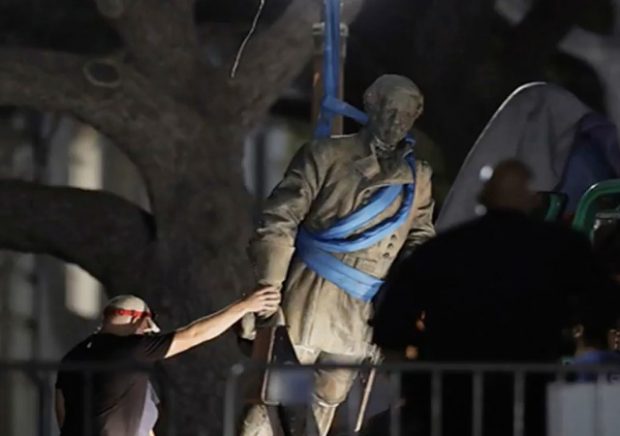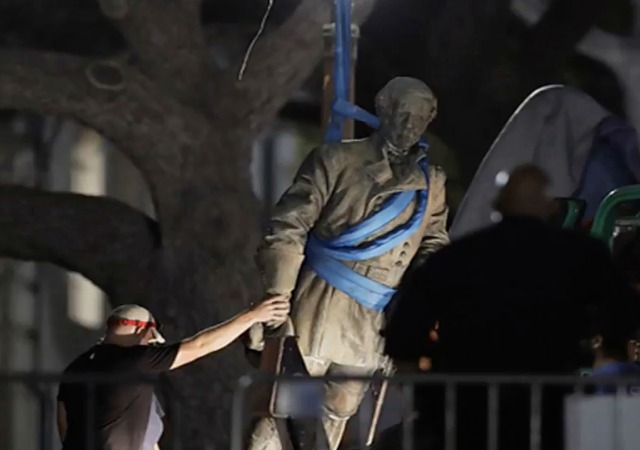 Late Sunday night, under cloak of night, the University of Texas at Austin sneakily removed three Confederate statues from campus.
No prior notice was given, but construction crews toiled through the night beneath bright lights behind the protection of police-guarded fences to remove statues of Robert E. Lee, Albert Sidney Johnston, and John Reagan.
The Texas Tribune reported:
Late Sunday night, 10 days before classes were scheduled to start, workers at the University of Texas at Austin began removing three Confederate statues from a prominent grass mall on campus.

The surprise news came with little notice, and the workers were done by sunrise. University president Greg Fenves announced that the statues of Robert E. Lee, Albert Sidney Johnston and John Reagan were being removed because they depict parts of American history that "run counter to the university's core values." His e-mail to the campus community was sent just before 11 p.m. A statue of former Texas Gov. James Stephen Hogg was also marked for removal.

"We do not choose our history, but we choose what we honor and celebrate on our campus," he wrote. "As UT students return in the coming week, I look forward to welcoming them here for a new academic year with a recommitment to an open, positive and inclusive learning environment for all."

Photographs from the scene showed workers using heavy machinery to pull the statues down. They worked under bright lights behind fences while police officers looked on.

…

A UT-Austin spokesman said in a text message that the university deliberately chose to remove the statues in the middle of the night "for public safety and to minimize disruption to the community."
Fenves continued in his email, "these events make it clear, now more than ever, that Confederate monuments have become symbols of modern white supremacy and neo-Nazism."
We're barely one week past the Charlottesville protests (perpetrated by a minuscule portion of the population) and suddenly, statues that have been in existence for decades magically morphed into symbols of hate. It's just another example of the left's insistence that inanimate objects are capable of violent acts and instigation all on their own (see also: guns). This unhealthy infatuation with symbolism blinds revisionists to the reality before them.
Tex Trib contd:
The three Confederate statues will be relocated to the Briscoe Center for American History. The statue of Hogg "will be considered for re-installation at another campus site," Fenves said.
We've been covering the revisionist resurgence, now emboldened by the Charlottesville protests as they attempt to erase this country's past to sate the feelings of the ignorant.
Follow Kemberlee on Twitter @kemberleekaye