Posted by
Fuzzy Slippers
Friday, June 23, 2017 at 7:00pm
| 6/23/2017 - 7:00pm
Former mayor's "space to destroy" coming back to haunt the city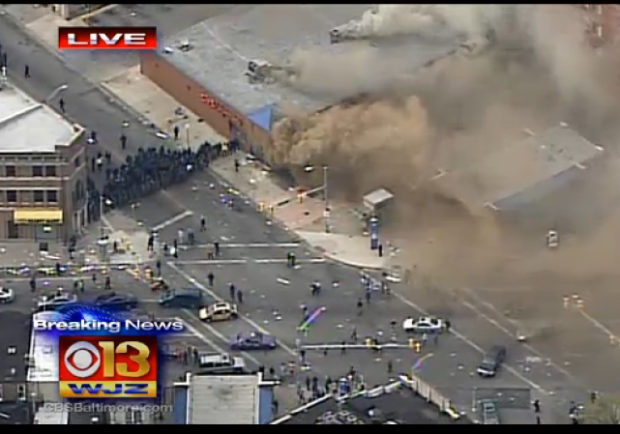 The April 2015 Baltimore riots caused a great deal of damage to local businesses.  Former Baltimore mayor Stephanie Rawlings-Blake is reported to have told police to stand down and insisted that the lawless mobs be given "space" to destroy private property unimpeded.
Baltimore businesses are now suing city officials, including the former mayor and local police, for failing to prevent the rampant looting and rioting that resulted in nearly $13 million in damages.
Dozens of Baltimore business owners are suing city officials, including the police department and former Mayor Stephanie Rawlings-Blake, saying they mishandled the city's response to the rioting in 2015.

In a nearly 700-page complaint filed in federal court this week, more than 60 plaintiffs say city officials failed to prevent the looting and rioting that erupted after the arrest and death of Freddie Gray in April 2015, despite warnings the city would experience violence.

More than 380 businesses, including many located south of North Avenue in West Baltimore, were damaged or destroyed. Property losses were estimated at nearly $13 million.

The plaintiffs are suing under the Maryland riot act statute, which allows parties to bring a claim against the city for property damage during civil unrest. They name Rawlings-Blake and former Police Commissioner Anthony Batts, who were in office at the time of the riots, current Mayor Catherine Pugh, the City Council, city police and the state as defendants. They are seeking an unspecified amount in damages.
One of the attorneys for the plaintiffs specifically notes the widely-reported statements of the former mayor regarding police standing down to allow rioters "space to destroy."
The Baltimore Sun continues:
"This lawsuit is the result of the City and the other Defendants failing to do right by these property and business owners," Peter K. Hwang, an attorney for the plaintiffs, said in a statement. "The City and other Defendants failed them when they adopted a policy of restraint and issued stand-down orders, caring more about the public perception that they feared would result with increased police presence than preventing what were clearly preventable riots."

. . . . The lawsuit includes a detailed time line leading up to the riots, beginning with Gray's arrest on April 12, 2015, and including public statements, memos and emails in which officials describe their concerns about the potential for violence.

. . . .  The plaintiffs quote Rawlings-Blake saying at a news conference that "we also gave those who wished to destroy space to do that as well."
Watch Rawlings-Blake in 2015:
Baltimore police are reported to have stood by and watched as looters and vandals destroyed businesses.  Those that did not watch, allegedly simply turned away.
It also details a "stand-down" order Batts gave to police, citing a Fraternal Order of Police report that said, "Officers were ordered to allow the protesters room to destroy and allow the destruction of property so that the rioters would appear to be the aggressors."

Once the rioting started in earnest, the documents stated, the city should have acted more quickly to bring in more resources, and the state should not have waited for the city to ask for help to send it in.

During the worst of the rioting on April 27, 2015, documents stated, "Even in locations where BCPD officers were present, business owners helplessly watched their stores being looted and destroyed as BCPD officers also simply watched and/or turned away, and let the destruction of property continue."