Posted by
Kemberlee Kaye
Monday, April 27, 2015 at 8:30pm
| 4/27/2015 - 8:30pm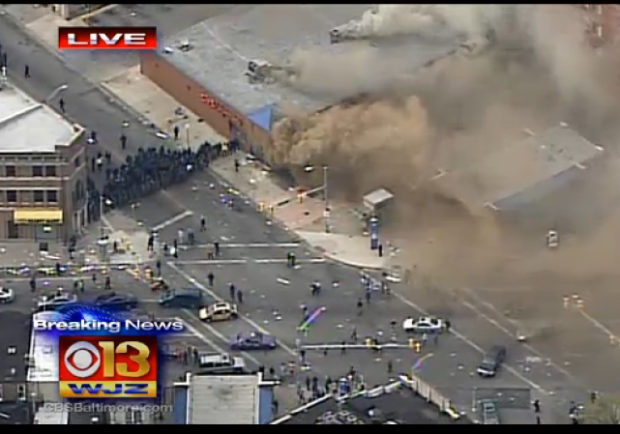 Baltimore called in reinforcements after riots that began Saturday night continued to devastate the city. What began as a march over the death of Freddie Gray who passed away from a spinal chord injury while in police custody, rapidly descended into a violent riot.
So far, rioters have thrown rocks and bottles at cops, looted and set fire to a CVS pharmacy, and robbed a reporter. And, just like the Ferguson, Missouri protests, these riots include the anti-Israel mob.
To give you an idea of what's going on there, this confrontation between rioters and local law enforcement sums it up pretty well:
#BREAKING: Demonstrators clash with police officers in #Baltimore. Watch LIVE VIDEO: abc15.com/live

Posted by ABC15 Arizona on Monday, April 27, 2015
The Baltimore Orioles game scheduled for this evening was postponed due to the unruly mob. The University of Maryland closed their Baltimore campus today because of local "activities." Essentially, Baltimore is out of control.
Not to fear though, Al Sharpton is set to make an appearance.
CBS Local live feed here:
And of course your Twitter live feed as well:
Tweets from https://twitter.com/CollegeInsurrec/lists/baltimoreriot

Baltimore City Schools are CLOSED tomorrow.

— Colin Campbell (@cmcampbell6) April 28, 2015
"All stations are closed," says automated voice pic.twitter.com/fgS3ZLdSey

— Carrie Wells (@cwellssun) April 28, 2015
Torn up mannequins outside a looted site by Lexington Market pic.twitter.com/A1p2cEEiN5

— Carrie Wells (@cwellssun) April 28, 2015
What's left of a city police car here on North Ave near the destroyed CVS pic.twitter.com/4tVBrOpCJv

— Colin Campbell (@cmcampbell6) April 27, 2015
Smoke coming from the CVS on North and Pennsylvania aves — you can see it from down the street. pic.twitter.com/o93dXBU5Hk

— Colin Campbell (@cmcampbell6) April 27, 2015
Bottles and rocks coming one way, tear gas canisters going the other. pic.twitter.com/dRQeOUIuom

— Colin Campbell (@cmcampbell6) April 27, 2015
Rocks and other debris flying at North Monroe and Gwynns Falls pic.twitter.com/Pb0r1fkQgI

— Colin Campbell (@cmcampbell6) April 27, 2015
This East #Baltimore fire is raging. Gay and Chester. pic.twitter.com/ioBwlOGcZu

— Brian Kuebler (@BrianfromABC2) April 28, 2015
Our photo editor Chris Assaf was just assaulted by a mob of looters while taking pictures on Howard Street

— Carrie Wells (@cwellssun) April 28, 2015
Baltimore Fire Fighters getting ready to fight inferno. Residents angry that some one did this. Lots of emotion pic.twitter.com/EQLLMWd28O

— Mark Puente (@MarkPuente) April 28, 2015
A new senior center on N Chester is engulfed pic.twitter.com/ra9rDjo821

— Mark Puente (@MarkPuente) April 28, 2015
Firefighters working hard to put out the flames on a senior center a Baptist choice was building b pic.twitter.com/UDmRhNTNYz

— Yvonne Wenger (@yvonnewenger) April 28, 2015
Follow Kemberlee Kaye on Twitter