Posted by
William A. Jacobson
Sunday, January 4, 2015 at 6:20pm
| 1/4/2015 - 6:20pm
Sanity prevails, a good start to the New Year.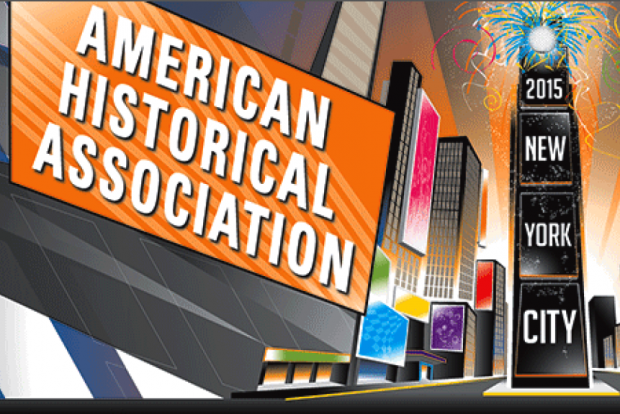 At the American Historical Association annual meeting in New York City, an anti-Israel group called Historians Against the War sought to present two anti-Israel resolutions (here and here).
Neither resolution called for a boycott of Israel, because they knew that would not pass (the AHA apparently is not controlled by anti-Israel radical activists, unlike the American Studies Association).
So in a strategy we have seen at the Modern Language Association, a resolution condemning alleged Israeli offenses against Palestinian academic freedom was offered. (It failed at MLA, btw.) This is the stepping stone approach — first get a resolution condemning, then later come back with a boycott resolution.
The resolutions were factually inaccurate and engaged in unsubstantiated hyperbole.
But the resolution sponsors missed the November 1 deadline for the resolutions to be considered at the business meeting. Only an affirmative vote at the business meeting could send the resolutions to a full membership vote.
So the anti-Israel activists sought to have the business meeting rules suspended. That would require at least a 100 person quorum and a two-thirds vote.
Based on the Twitter feed, it appears that the motion to suspend the rules met spirited opposition on a variety of grounds, including the lack of good grounds for missing the deadline, the importance of providing adequate time to fact check the resolution, and the merits of the ultimate resolution.
The vote at the business meeting was taken just minutes ago.
The motion failed, with 144 voting No, 54 voting Yes, and 3 voting Present. So the Resolutions will not even be debated, much less sent to the membership.
Sanity prevailed someplace in academia. A good start to the New Year.
(Added)
Here is a video of the "Radical Historians" meeting at the conference yesterday, composed of many of the people pushing the anti-Israel resolutions.
Here are some tweets from people in the room when the vote took place today, as well as some others commenting.
A curious lack of people speaking on behalf of suspending the rules #businsessmtg #AHA2015

— Claire Potter (@TenuredRadical) January 4, 2015
Who needs a #businessmtg for only a discussion?Bar, classroom works. MT @TenuredRadical: Marilyn Young: suspens allows discuss res. #AHA2015

— Adam Arenson (@adamarenson) January 4, 2015
@DavidAvromBell: discussion would not allow us to check the facticity of the resolution #businessmtg #AHA2015

— Claire Potter (@TenuredRadical) January 4, 2015
And it surely needs that. MT @TenuredRadical "@DavidAvromBell: discussion would not allow us to check facticity of the resolution." #AHA2015

— Erika Dreifus (@erikadreifus) January 4, 2015
Following @tenuredradical on the #AHA2015 #businessmtng; seeing familiar name cited reminds me of line fr "18th Brumaire" I read long ago +

— Erika Dreifus (@erikadreifus) January 4, 2015
to the effect that history repeats itself, the first time as tragedy, the second time as farce. #AHA2015 #businessmtg #troublemakers (2/2)

— Erika Dreifus (@erikadreifus) January 4, 2015
We meet deadlines for jobs,grants.MT @TenuredRadical:Sandi Cooper in favor:rules designed to suppress & curtail debate #businessmtg #AHA2015

— Adam Arenson (@adamarenson) January 4, 2015
144 nos, 54 yeses, présent 3: motion to suspend has not passed. #businessmtg #AHA2015

— Claire Potter (@TenuredRadical) January 4, 2015
HAW proponents are distinguishing themselves by trying to interrupt Alice Kessler-Harris. Stay classy, guys #businessmtg #AHA2015

— Claire Potter (@TenuredRadical) January 4, 2015