Posted by
Anne Sorock
Tuesday, September 4, 2012 at 7:22pm
| 9/4/2012 - 7:22pm
Timed just right to coincide with the kick off of the DNC convention, Nickelodeon finally released a response this evening to the lewd comments on their star Jason Biggs's twitter feed, an account which had been actively promoted by the network late last week. The statement, which they tweeted from the @NickelodeonTV account, makes it clear that Jason Biggs will continue to be employed by Nickelodeon:
 @Britopian The offensive comments made by Jason Biggs last week on his personal twitter account do not reflect our company's views or values, and we condemn them. Nickelodeon does not support or condone the use of graphic or vulgar language on any of our platforms. It was our mistake to link from our Teenage Mutant Ninja Turtles twitter feed to Jason's personal twitter account, and we quickly corrected our error. We also insisted Jason use better judgment and discretion in public communications while affiliated with our brand.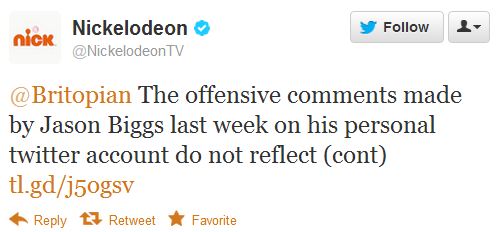 Nickelodeon makes a point of referring to the account that they promoted as Biggs's "personal twitter account." Despite the thousands of parents who tweeted at them over the past few days, Nickelodeon chose to respond to a "social media planning" professional (who is also a parent who had expressed concern via twitter) with 53,813 followers.
They did not release the statement on the original Nickelodeon twitter account that linked to Biggs, @TMNTMaster, which is the official outlet for the show Biggs stars in, Teenage Mutant Ninja Turtles. Biggs himself has been very quiet on twitter, and has not been active on his so-called "personal account" since August 31.
Nickelodeon has shown they will condone vile and sexual remarks on one of their stars' main media outlets, content to issue a slap-on-the-wrist statement many days after the initial complaint. In supporting their star over their audience, they are following the lead of many other major companies and brands that are taking more upfront stances on political issues, as I wrote about in my post on "The Age of Bully Marketing."
Ben Shapiro at Breitbart finds the brush-off more than a little offensive, given Nickelodeon's "Anti-Bullying Initiative," and his colleague Alex Marlow is calling on those unsatisfied with the "tweet response" to email the west coast vice president of the network:
It would be difficult to describe Biggs' tweets as anything other than the worst sort of cyberbullying. But Nickelodeon doesn't seem to care.

They don't seem to care, even though one of their biggest initiatives is their Anti-Bullying Initiative. The website for that initiative insists, "Bullying doesn't have to happen in person. Sometimes bullies will say hurtful things on the Internet. It's important to also learn about cyberbullying!" Not only that – Nickelodeon encourages you to "Stand up for someone that you see being bullied and tell an adult about the problem."

In that spirit, it's time for Americans to get active and tell the adult in the room – Nickelodeon – about the problem. In fact, our Managing Editor, Alex Marlow, has already emailed West Coast Vice President Ariana Urbont…[email protected]
We may be witnessing the end of customer service and the beginning of "big network knows best."