Posted by
Anne Sorock
Tuesday, June 12, 2012 at 9:00am
| 6/12/2012 - 9:00am
I stopped by Brown University's Haffenreffer Museum on my way out of town after the Netroots Nation conference. They currently have an exhibit focused on American Indian representation in America entitled "Thawing the Frozen Indian." The stated purpose of this exhibit "is confronting the complex, and often painful, history of cultural appropriation in order to foster conversation."
After the American Indian Caucus panel at Netroots brushed off my question about Elizabeth Warren's cultural appropriation of the Native American label, I was interested to see how an exhibit about such actions would treat the subject. Elizabeth Warren falsely has claimed to be Native American despite mounting evidence to the contrary.
With news today that Harvard alum Margo Kickingbird DeLaune has accused Elizabeth Warren of "ethnic fraud," it appears the Netroots American Indian Caucus's dismissal of Warren's cultural appropriation isn't a view shared by all Native Americans:
We should nevertheless hold her [Warren] accountable for  the damage she has wrought—by either crassly capitalizing on the plight of the  American Indian or indulging in the fetishization of a frequently caricaturized  minority group….
Here is a placard from the exhibit, which includes the quote, "Playing Indian has a long history in the United States, all the way back to those original tea parties in Boston, and in no way is it better than minstrel shows or dressing up in blackface":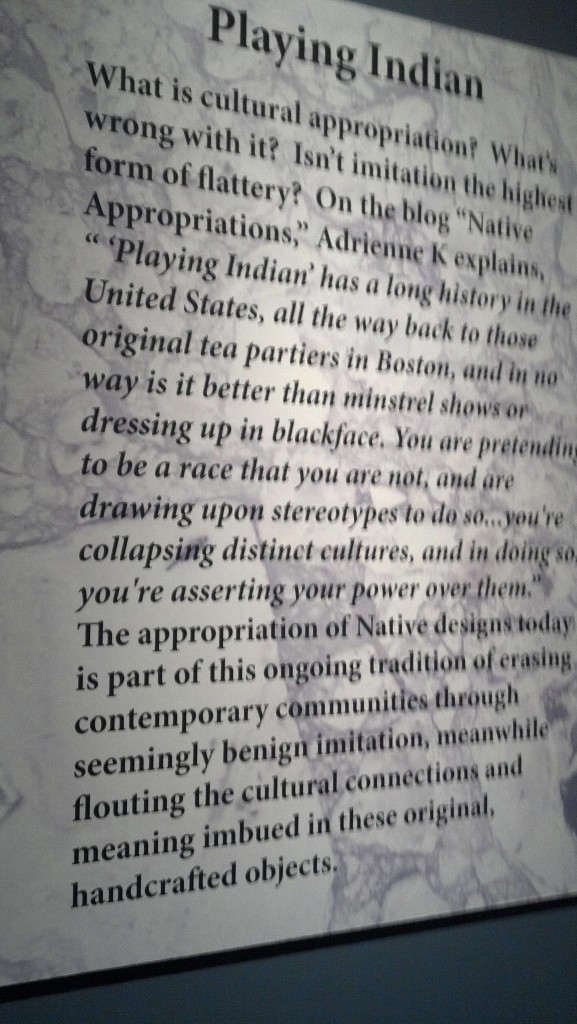 Perhaps Elizabeth Warren, if she's still in town, will find the time to visit the exhibit. It runs through the summer.