Posted by
Mary Chastain
Wednesday, October 28, 2020 at 7:00am
| 10/28/2020 - 7:00am
Looting stores, rioting in neighborhoods.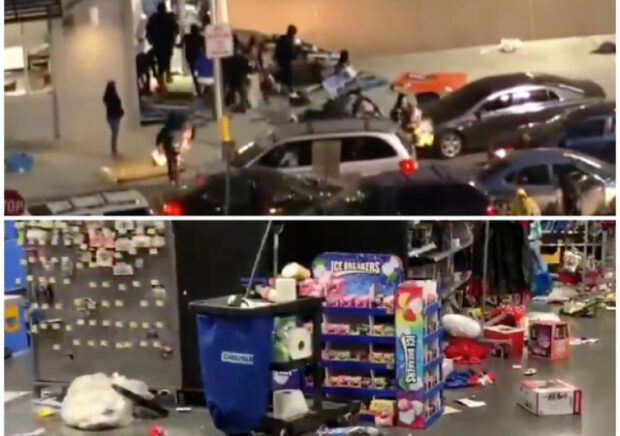 Pennsylvania Gov. Tom Wolf, a Democrat, activated the Pennsylvania National Guard to Philadelphia after violence erupted for the second night in a row.
From Fox News:
Several hundred guardsmen will assist local agencies in "protecting life, property and the right to peacefully assemble and protest," Lt. Col. Keith Hickox said in a statement Tuesday. "We are able to conduct operations in support of civil authorities to enhance local law enforcement's ability to provide continued public safety and critical infrastructure security."

The move by Gov. Tom Wolf, a Democrat, to activate the guard is a stark difference from other Democratic governors who have been hesitant or slow to mobilize troops in response to unfolding unrest.

The Philadelphia Police Department will also beef up its presence across the city in anticipation of possible unrest over the death of Walter Wallace Jr., 27, city leaders said.

"For today and this evening, we anticipate the chance of additional incidents of civil unrest and, as such, we will be taking additional steps to ensure order," Philadelphia Police Commissioner Danielle Outlaw said during a news conference along with Mayor Jim Kenney and city leaders.
All you need to do is watch these videos. Somehow looting and destroying private property helps bring racial equality.
A Chick-fil-A in Philadelphia was broken into and damaged. pic.twitter.com/yfR4w5laOj

— Julio Rosas (@Julio_Rosas11) October 28, 2020
Philadelphia will deploy additional police officers and has asked surrounding regions for law enforcement support as it braces for further unrest sparked by the police shooting of a Black man, Walter Wallace Jr., who they say was armed with a knife https://t.co/jbp2eJKz8r pic.twitter.com/TZ9n4S6nLg

— Reuters (@Reuters) October 28, 2020
WALMART LOOTED: Looters run in and out of a Walmart with TVs and other electronics in Philadelphia's Port Richmond neighborhood as the city experiences another night of unrest after the shooting of Walter Wallace Jr.

MORE: https://t.co/wPD5FtToAT pic.twitter.com/89ytWdyDUY

— FOX 29 (@FOX29philly) October 28, 2020
Many cars rush in and out of the parking lot of a Walmart being looted at a BLM riot in Philadelphia tonight. pic.twitter.com/TSNtcCKweQ

— Andy Ngô (@MrAndyNgo) October 28, 2020
The outside of the damaged businesses were trashed from the items left behind by the looters. pic.twitter.com/jZwTvUI0Mv

— Julio Rosas (@Julio_Rosas11) October 27, 2020
The BLM crowd marched as close as they could to the Philadelphia Police 18th District. Police in riot gear stopped them from getting closer. pic.twitter.com/Rlw5QX0ZEk

— Julio Rosas (@Julio_Rosas11) October 28, 2020
Looters in Philadelphia are pulling up in cars and rushing into stores to grab as much as they can before driving away. pic.twitter.com/I7MCwLnnAg

— Julio Rosas (@Julio_Rosas11) October 28, 2020
Philadelphia rioters and looters destroying the inside of a Dollar Tree. pic.twitter.com/J4Gj2yz75R

— Julio Rosas (@Julio_Rosas11) October 28, 2020
Mass looting across the river and @ElijahSchaffer just got beaten up for filming. This is inside the Five Below store. Police are in the same parking lot near the Walmart, but there seem to be too many looters pic.twitter.com/CZeIiMokJa

— Shelby Talcott (@ShelbyTalcott) October 28, 2020
BREAKING: BLM looters jumped our reporter @ElijahSchaffer while he was covering the riots in Philadelphia

He's continuing to report but may need stitches for a deep gash in his upper lip pic.twitter.com/P7ZZup5vUT

— TheBlaze (@theblaze) October 28, 2020
Philadelphia- Eye glass store and nail salon looted pic.twitter.com/R1HI8gbz6Q

— Savanah Hernandez (@sav_says_) October 28, 2020
A furious crowd in west Philadelphia throws rocks, water bottles and other items at police #WalterWallaceJr pic.twitter.com/shxq2GcAk8

— Justin Udo (@JustinUdo) October 28, 2020
BREAKING: a Wal-Mart is currently being looted for the second time tonight

Police have completely lost control of 4 large city blocks

Multiple people have been shot/assaulted including myself

(hence the gashed lip making it difficult to speak)
pic.twitter.com/6UXol5GHYr

— ELIJAH SCHAFFER (@ElijahSchaffer) October 28, 2020
PHILLY: BLM protester strikes a police officer while Antifa surrounds him & blocks cameras from recording the assault
pic.twitter.com/FMIRglH17M

— ELIJAH SCHAFFER (@ElijahSchaffer) October 28, 2020
BREAKING: Wal-Mart is being looted for a 2nd time by BLM rioters in Philadelphia

They are looting 15+ stores over a 4 block radius. Police have not been able to get the situation under control

Chaos is ensuing to the point where it's not safe anymorepic.twitter.com/U34olfZ835

— ELIJAH SCHAFFER (@ElijahSchaffer) October 28, 2020
Happening NOW Large contingent of ⁦@PAStatePolice⁩ mounted patrol horses&trailers across from Philadelphia City Hall. 15th Street closed. so is Arch Street leading up to this. ⁦@PhillyPolice⁩ getting help it requested for expected protests etc ⁦@FOX29philly⁩ pic.twitter.com/Rqzmhp4kit

— Steve Keeley (@KeeleyFox29) October 28, 2020
Lots of ⁦@PhillyPolice⁩ bicycle officers riding through Center City streets right now hoping to be deterrent to keep businesses safe overnight and help residents, business owners&workers feel safe tomorrow too they say ⁦@FOX29philly⁩ pic.twitter.com/jl49tVnQDc

— Steve Keeley (@KeeleyFox29) October 28, 2020