Posted by
Fuzzy Slippers
Saturday, October 10, 2020 at 6:00pm
| 10/10/2020 - 6:00pm
Bringing new meaning to the leftie term "tampon justice"?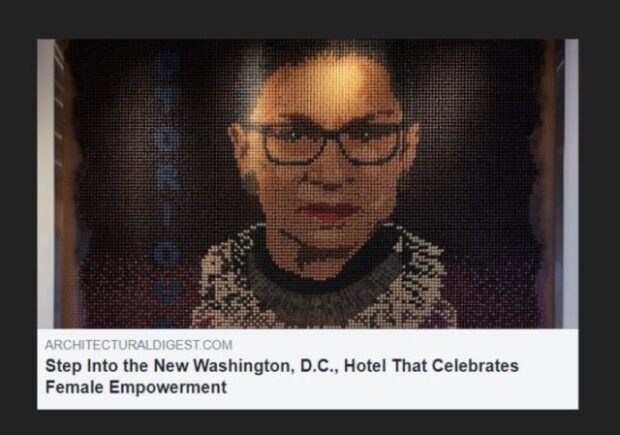 From demanding free tampons, to placing tampons in men's restrooms, to wearing tampons as earrings on national television, the left has long been obsessed with tampons. There for a while, "tampon justice" was an actual thing.
Remember this: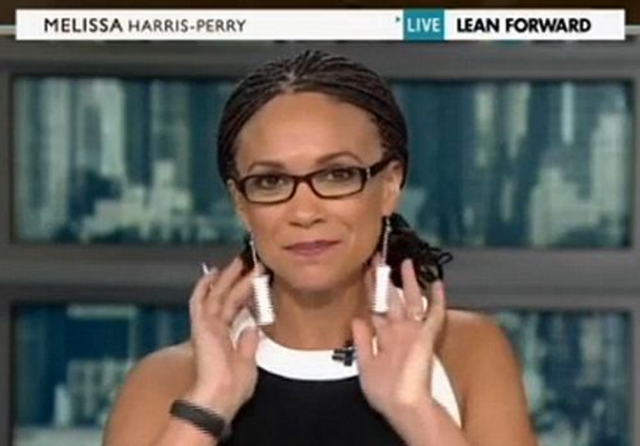 Now a boutique hotel in DC has taken the concept of "tampon justice" to a new and disturbing level.  The Hotel Zena features an enormous mural of recently deceased Supreme Court Justice Ruth Bader Ginsburg composed entirely of tampons. Twenty thousand of them.
I kid you not.
This revamped D.C. hotel opened with a "female empowerment theme" that features:

• A portrait of RBG made out of 20,000 hand-painted tampons
• Cocktails named "the huntress" and "empowermint"
• And a head chef who is male. https://t.co/xMfkTfY2Lq pic.twitter.com/Jvhuy8MpYq

— Eater (@Eater) October 9, 2020
Architectural Digest enthuses about this "attention-grabbing" "artwork":
In the hotel lobby, a dramatic portrait gallery honors 11 women who've led the fight for gender equality, including Supreme Court Justice Ruth Bader Ginsburg and Rep. Shirley Chisholm—the first Black woman elected to Congress.

Many of the attention-grabbing works also incorporate provocative materials. The larger-than-life homage to Justice Ginsburg has been constructed using 20,000 hand-painted tampons, arranged on a pegboard to create a pointillist portrait (complete with the justice's signature lace collar and her "Notorious" moniker).
Needless to say, people have thoughts (via Twitchy).
Would love to pass away one day and have people make a portrait of me out of tampons

That is what every woman wants, I think

— Roxi Horror 💀🌸 (@roxiqt) October 9, 2020
Yes. This is exactly what we've been asking for. Hand-painted tampons. CLOSE IT UP, GIRLS, WE FINALLY GOT IT

— Jessica (@RedHeadedWriter) October 10, 2020
So much cringe

— Gillian Rich (@IBD_GRich) October 9, 2020
Neat idea but couldn't have they just made the entire hotel out of tampons? Shaped like one large, used tampon? Would have empowered my woman-ness so much more :/

— claire (@MadameWombat) October 9, 2020
And when this inevitably closes, "misogyny" will be to blame

— Dan Mahowny (@DanMahowny) October 9, 2020