Posted by
Fuzzy Slippers
Saturday, August 15, 2020 at 6:00pm
| 8/15/2020 - 6:00pm
Biden: "They're going around literally with tractor trailers picking up mailboxes. You oughta go online and check out what they're doing in Oregon. I mean, it's bizarre!"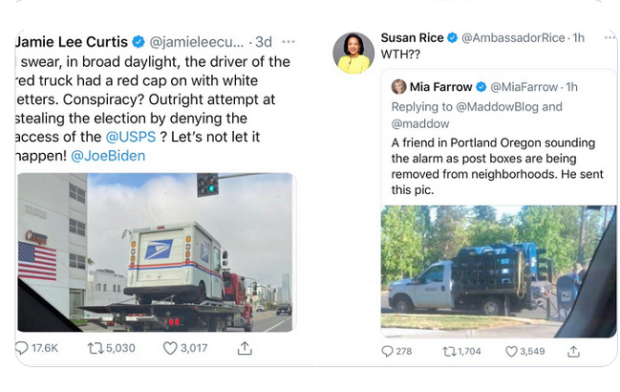 Some days, I just don't know whether to laugh or cry at the state of the left and what they are attempting to do to our great country.  This day, though, I am laughing pretty hard at Joe Biden and Susan Rice, and it's an easy one.
Hollyweirds Mia Farrow and Jamie Lee Curtis tweeted a ridiculous "gotcha" photo of trucks removing USPS mailboxes from Oregon neighborhoods as supposed "evidence" that President Trump is removing mailboxes in an effort to stop people from mailing in their votes.
Ok it's one thing for the actress from Halloween to spread conspiracy theories — she's seen some things.

But the former White House National Security Advisor following suit is pretty nuts. pic.twitter.com/v4LjURqL5k

— Matt Whitlock (@mattdizwhitlock) August 14, 2020
Already top-door cray-cray, right?  My guess is that Portland has quite more than a few "shy" Trump voters at this point, having watched their city burn and violent crime spike for months on end.  Biden may suspect the same thing, since he, too, leapt on the TDS-induced conspiracy theory.
Biden on USPS at virtual fundraiser tonight, per @hollyotterbein

"They're going around literally with tractor trailers picking up mailboxes. You oughta go online and check out what they're doing in Oregon. I mean, it's bizarre!" pic.twitter.com/zcd0pzj9Jd

— Johnny Verhovek (@JTHVerhovek) August 14, 2020
The problem?  The mailboxes are being replaced because they are old and presumably on schedule for replacement.  That's it.  Nothing to see here.
The explanation — they're replacing old mailboxes with new ones.
H/t @JerryDunleavy https://t.co/CagaMakX6h

— Matt Whitlock (@mattdizwhitlock) August 14, 2020