Posted by
Mike LaChance
Friday, August 28, 2020 at 12:00pm
| 8/28/2020 - 12:00pm
"How did we get to this point where so many people are callous and indifferent towards human life?"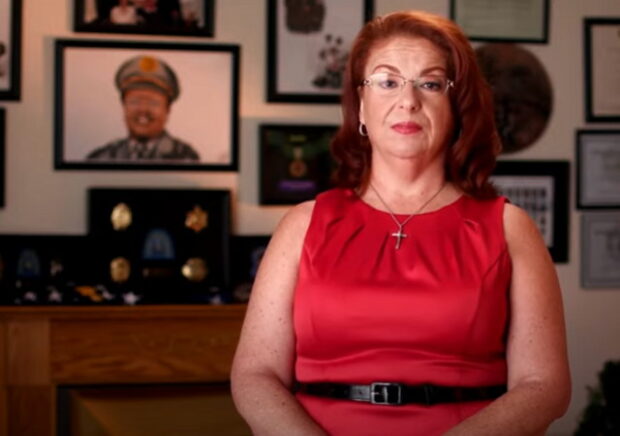 A few months ago, retired St. Louis police chief David Dorn was killed by a rioting mob while trying to protect a small business. His death was live-streamed on Facebook.
Last night at the Republican National Convention, his widow Ann Dorn recalled her loss and endorsed Trump. It was a powerful segment.
Carly Ortiz-Lytle writes at the Washington Examiner:
Ann Dorn breaks down in emotional convention speech about husband slain in riot

The widow of retired St. Louis police officer David Dorn delivered an emotional speech at the Republican National Convention, recounting the moment she was told about her husband's death.

"The chief of police was standing outside. I wondered why Dave had not answered the door. It wasn't uncommon for him to be up watching TV at this time. I called out to him several times. There was no reply. He just wasn't there," Ann Dorn said. "I let in the chief, and fighting back tears, he said the words every officer's spouse dreads."…

Ann Dorn said that David Dorn's own grandson watched his grandfather die during a Facebook livestream, "not realizing he was watching his own grandfather dying on the sidewalk."

"As I slept, looters were ransacking the shop. They shot and killed David in cold blood and then livestreamed his execution and last moments on Earth," she said.

"How did we get to this point where so many people are callous and indifferent towards human life?" she asked. "This isn't a video game where you and commit mayhem and hit reset and bring all the characters back to life. Dave is never, never coming back to me."

Ann Dorn offered a rebuke of the protests and riots gripping the United States, praising President Trump's offer of federal assistance.
Watch the whole video below, this is powerful:
Pollster Frank Luntz noted the power of this moment on Twitter:
Hands down, the best video of the entire 4-day convention.

People around me are crying. #RNC2020 https://t.co/yS75uMiDkS

— Frank Luntz (@FrankLuntz) August 28, 2020
As did others:
I'm crying in my chair watching Ann Dorn. May God Bless her.

— Ari Fleischer (@AriFleischer) August 28, 2020
Ann Dorn has me in tears and she hasn't yet gotten to the moment that broke the heart of America.

— James Woods (@RealJamesWoods) August 28, 2020
God bless Ann Dorn.

I'm so glad she got the platform she deserves.

RIP David Dorn. pic.twitter.com/jKYW7Lb2Gb

— Jason Howerton (@jason_howerton) August 28, 2020
Ann Dorn's speech is the kind that makes you stop whatever you're doing to listen.

— Jedediah Bila (@JedediahBila) August 28, 2020
Please find a way to get family members, neighbors and friends to listen to the powerful words of Ann Dorn.

Its the elixir our nation needs right now. https://t.co/HLowY1uMvy

— Charles V Payne (@cvpayne) August 28, 2020
Ann Dorn is breaking my heart. #RNCConvention2020

— Kurt Schlichter (@KurtSchlichter) August 28, 2020
My heart breaks for Ann Dorn. This is a message that everyone needs to hear.

— Lisa Boothe (@LisaMarieBoothe) August 28, 2020
An incredible moment, in a convention that has defied expectations.
Featured image via YouTube.