Posted by
Mike LaChance
Saturday, June 13, 2020 at 11:00am
| 6/13/2020 - 11:00am
"Several big companies have dropped their advertising for 'Tucker Carlson Tonight' after the Fox News host made controversial comments about the Black Lives Matter movement."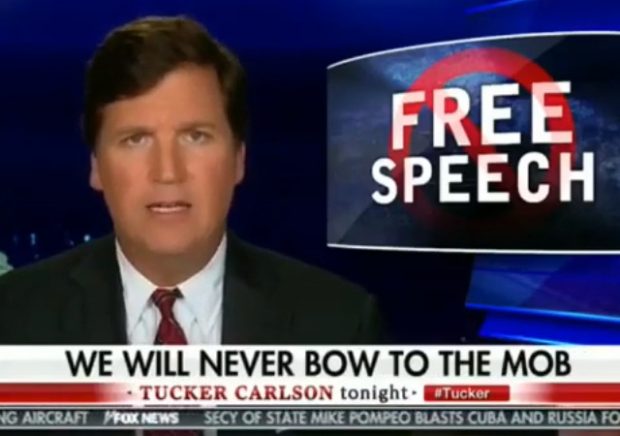 In recent weeks, Tucker Carlson of FOX News has been a lone voice in the media wilderness. No one on television has been more brutally honest about what is happening in America right now. Carlson has even had the guts to criticize Black Lives Matter.
For this, he must be punished.
As has happened numerous times before, the left is going after his advertisers.
Marty Johnson reports at The Hill:
Tucker Carlson sees big-name advertisers bolt after comments on Black Lives Matter

Several big companies have dropped their advertising for "Tucker Carlson Tonight" after the Fox News host made controversial comments about the Black Lives Matter movement.

"This may be a lot of things, this moment we are living through, but it is definitely not about black lives, and remember that when they come for you," Carlson said on Monday. "And at this rate, they will."

The liberal activist group Sleeping Giants tweeted the following day that Carlson's remarks were "extremely racist" and asked T-Mobile — known to run advertising during Carlson's hourlong program — to reconsider its financial support for the show.

The telecommunications giant tweeted back saying, "We haven't run ads on Tucker Carlson Tonight since early May and have cancelled all future placements. We will continue to support those who stand against racial injustice."
Some media outlets actually seem happy about this. Check out the playful joy in this headline from CBS News:
"Bye-bye Tucker Carlson!" T-Mobile CEO says as advertisers drop Fox News show

Companies including T-Mobile and Papa John's Pizza are distancing themselves from Tucker Carlson's television show on Fox News after the conservative host's dismissive comments about the Black Lives Matters movement.

The backlash intensified after Carlson on Monday offered an inflammatory take on the nationwide anti-racism demonstrations that have followed the death of George Floyd at the hands of former Minneapolis police officer Derek Chauvin.

Asked by a Twitter user the next day if Carlson's message was one T-Mobile supported, CEO Mike Sievert tweeted back, "It definitely is not. Bye-bye Tucker Carlson! #BlackLivesMatter."

In fact, the telecom said in a subsequent tweet that it had cut ties with Carlson in early May, noting that it had "cancelled all future placements" and that T-Mobile will "continue to support those who stand against racial injustice."
As usual, the Twitter mob is driving this.
Hey there, Tim. We hear you. We haven't run ads on Tucker Carlson Tonight since early May and have cancelled all future placements. We will continue to support those who stand against racial injustice. ^AdamBailey

— T-Mobile Help (@TMobileHelp) June 10, 2020
It definitely is not. Bye-bye Tucker Carlson! #BlackLivesMatter

— Mike Sievert (@MikeSievert) June 10, 2020
Other Twitter users are showing support with the hashtag #IStandWithTucker
NEVER bow to the mob. @TuckerCarlson never does.

That's why #IStandWithTucker https://t.co/wV85sBnZoM

— Jeremy Carl (@jeremycarl4) June 12, 2020
Tucker Carlson is an American patriot and truth-teller. He's unafraid, unbowed and unrelenting in his cultural and political commentary. Of course he's a threat to the political posers and preeners! #IStandWithTuckerCarlson

— Laura Ingraham (@IngrahamAngle) June 12, 2020
#IStandWithTucker Retweet if you do too.

— Rachel Campos-Duffy (@RCamposDuffy) June 12, 2020
The Left tries to destroy every truth speaker. I wish more men would grow a pair. @TuckerCarlson #IStandWithTucker https://t.co/NkZ6muk6eS

— Dr. Carol M. Swain (@carolmswain) June 12, 2020
#IStandWithTucker because he tells it like it is. They keep attempting to have his show cancelled or have sponsors abandon him because he kicks their asses in the ratings every night and they have no other way to defeat him.

— Carmine Sabia (@CarmineSabia) June 12, 2020
#IStandWithTucker because far too many "conservatives" myopically focus on economics, letting the Left dominate and devastate our culture.

Not Tucker.

America is more than a GDP.

— Rob Shimshock (@ShimshockAndAwe) June 12, 2020
Disney, Inc. cancels @TuckerCarlson.

How long until they cancel Walt Disney?#IStandWithTucker

— Matt Gaetz (@mattgaetz) June 12, 2020
We simply can't allow the Twitter mob and the #CancelCulture to dictate to us what we can watch. There are lots of people on @CNN I don't like or agree with but guess what? I can change the channel and so can those who don't like Tucker! RT. #IStandWithTucker

— Alana Stewart (@AlanaKStewart) June 12, 2020
Perhaps no one sums it up better than Tucker's FOX News colleague Greg Gutfeld:
leftist anti-speech wont stop with tucker. this is about intolerance of competing ideas. and silencing them via career assassination. until we all share the risk, it will swallow everyone.

— GregGutfeld (@greggutfeld) June 13, 2020