Posted by
Mary Chastain
Monday, June 29, 2020 at 12:00pm
| 6/29/2020 - 12:00pm
"This was actually a great episode about racial and age perceptions, one of the ones that show how much Golden Girls was ahead of its time during first run."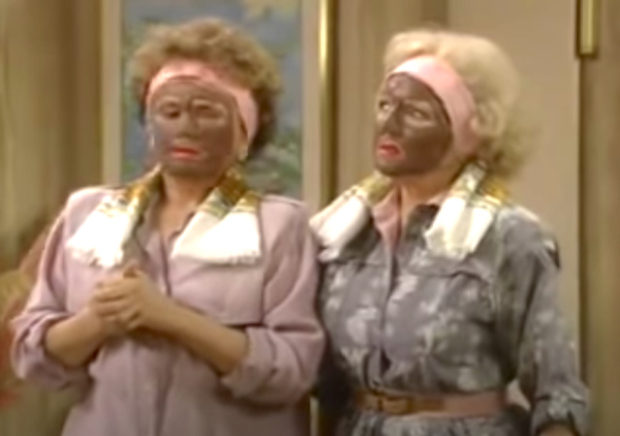 This reminds me of the blog I wrote about BET Robert Johnson's comments on white people tearing down statues, removing movies and shows, and apologizing for their race.
Johnson wants white people to reach out and ask black people what they want and need.
Or how about the white people in New York City who think the black people in Harlem hate the police even more than they do? They obviously didn't ask because those in East Harlem said it would be "suicide" if the NYPD disbanded.
Maybe now they will because Hulu is receiving criticism for removing a Golden Girls episode for supposed blackface.
From The Hollywood Reporter:
Hulu has removed an episode of The Golden Girls that contains a scene in which Betty White and Rue McClanahan are mistaken for wearing blackface.

"Mixed Feelings", episode 23 in season 3 of the sitcom, aired in 1988 and shows Michael (Scott Jacoby), the son of Dorothy (Beatrice Author), planning to wed a much older Black woman, Lorraine (Rosalind Cash).

Dororthy is concerned over the age difference while Lorraine's family disapproves of their daughter marrying a white man, and thus the two families attempt to end the marriage. In the episode, Lorraine's family finds Rose (Betty White) and Blanche (Rue McClanahan) trying a new mud facial treatment, and as they greet their family, Rose says "This is mud on our faces, we're not really Black."
It's not even blackface! It's a mud mask! But those in charge don't use their brain and jump the gun, which makes them come out looking like idiots.
Then again, Hollywood is so full of itself that nothing will persuade them from "doing the right thing" because this is the racial justice and reform blacks want, right?
Maybe Hollywood and the apologetic whites should take Johnson's advice because like I said, black people, even on the left, criticized this move.
To be clear: I'm not "attacking" Hulu. I would just hate for the seriousness of this moment and movement to get lost in symbolic (and sometimes silly) overcorrections. Impact on real lives should be the measure of any change worthy of a PR push.

— erica williams simon (@missewill) June 28, 2020
Removing this episode is weird, counterproductive and stupid. It diminishes the effort to actually end racism. It's just so dumb.

— roxane gay (@rgay) June 28, 2020
Yeah, these companies and media platforms are trivializing the situation by sending the message that our demand for justice is as petty as removing episodes of the Golden Girls off a streaming platform. This is a calculated effort to cheapen our message. https://t.co/iAr5oVazkT

— raevin (@raeviin) June 28, 2020
omg. okay, THEY WERE NOT EVEN IN BLACKFACE IN THAT EPISODE. i don't even need to read it to know which one they're talking about. Dorothy and the girls found out her son, Michael, was marrying a black woman. Blanche and Rose were wearing mud masks, PLEASE. #GoldenGirls

LIKE PLS https://t.co/dSAJ5N7yn7

— ?Kᥱᥣιᥲh Sᥲιd Oᥒᥣყ Rᥱρᥣყ Wιth WASHED Hᥲᥒds? (@RealKDPFan4Eva) June 28, 2020
Y'all pulled that Golden Girls episode that wasn't even blackface. Right now it's feels very much like the entertainment industry and culpable white people within it are using these performative gestures to get out of doing the work that needs to be done.

— Leslie Mac (@LeslieMac) June 28, 2020
i promise you as a black person not one black person i know including myself thought The Golden Girls we're doing blackface, that episode was actually about acceptance.

— ???Skyla??? (@SkyLizzels) June 28, 2020
This was actually a great episode about racial and age perceptions, one of the ones that show how much Golden Girls was ahead of its time during first run.

But yes, let's get rid of the "blackface" episode.

??? WHERE IS THE SWEEPING LEGISLATION AGAINST POLICE BRUTALITY

— ARREST BREONNA TAYLOR'S KILLERS. (@Mz2euceBOSS) June 28, 2020
Black chick here. LEAVE THE GOLDEN GIRLS ALONE! This episode was in NO WAY Blackface. Don't start with the overreaching. Krikey. ??

— NeoDasha Hunter (@ThatMooreGyrl) June 28, 2020
my good sisters the golden girls would NEVER do blackface. please stop attempting to besmirch their names, @hulu!

— maybe: diane⁷ (@dianelyssa) June 28, 2020