Posted by
Mary Chastain
Monday, June 15, 2020 at 1:00pm
| 6/15/2020 - 1:00pm
"What I would like is for all police around America to get their jobs and do them the right way, the correct way. Innocent people shouldn't have to die. You can do your job and still maintain respect for others."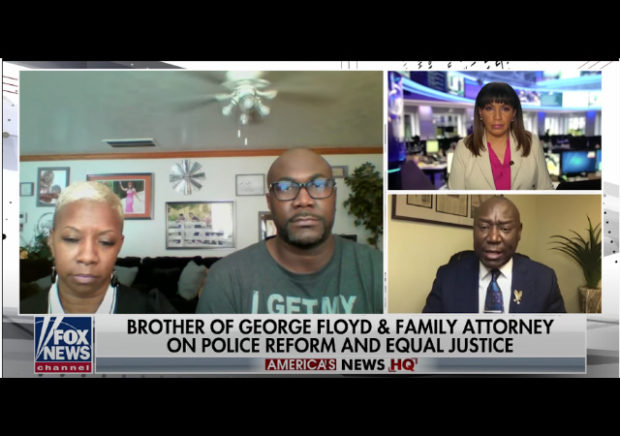 Philonise Floyd, the brother of George Floyd, and family attorney Benjamin Crump came out against the #DefundThePolice movement on Fox News on Sunday.
From Fox News:
"What I would like is for all police around America to get their jobs and do them the right way, the correct way. Innocent people shouldn't have to die," Philonise Floyd said on "America's News HQ." "You can do your job and still maintain respect for others."
Crump told Fox News that the family has not pushed to defund the police. Instead, the family has called for both sides to work on solutions "instead of supporting the abolition" of police:
"We want to try to work to say we need to do restructuring and we need to work together and in concert to try to solve this problem," Crump explained. "This is not a black problem. This is not a white problem. This is an American problem, and the only way we can heal this country is by working together."

—

"What we want is people from both sides of the aisle, people from communities of color, community partners, to get with law enforcement," Crump explained, "so we don't continue to have… black people being killed by the police unjustifiably and unnecessarily and senselessly, and nobody being held accountable."
Fuzzy blogged on Sunday that the #DefundThePolice movement has gained more support from privileged white liberals.
HuffPo found that blacks "oppose it by a 20-point margin:"
. . . . Self-described liberals support defunding the police by a 13-point margin. But nearly every other ideological and demographic group opposes it. Democrats and Democratic leaners oppose it by a 4-percentage point margin, and Black Americans oppose it by a 20-point margin.
Stacey wrote about how Black Lives Matter co-founder Patrisse Cullors said she thinks America "should ultimately abolish" the police:
While, ultimately, Cullors said she believes that law enforcement as we know it today should be abolished entirely, she acknowledged that the road to abolition could be a long one—that is why, she said, it needs to be taken step by step.

The first step, she said, would be significantly reducing funding to law enforcement bodies and redirecting that money into initiatives directly serving communities, including education, healthcare and community programming.

"We don't disband law enforcement in just one day. That's not logical," she said.

"I think we should ultimately abolish [law enforcement]," Cullors said. "What we can do right now is drastically reduce law enforcement's relationship to the community."

[…]

"Policing and incarceration are part of a continuum. The policing is the first response and then incarceration is the last response. And these two systems rely on each other very, very deeply. We have to be working on getting rid of both systems," she said.