Posted by
Fuzzy Slippers
Sunday, March 15, 2020 at 7:30pm
| 3/15/2020 - 7:30pm
Will Bernie push Biden even further left? [Answer: Oh yes indeedy]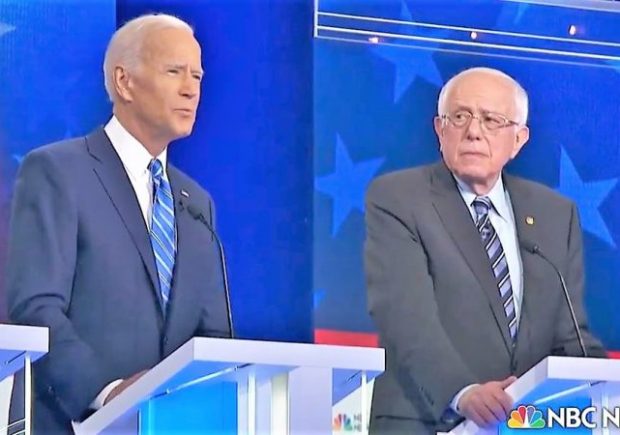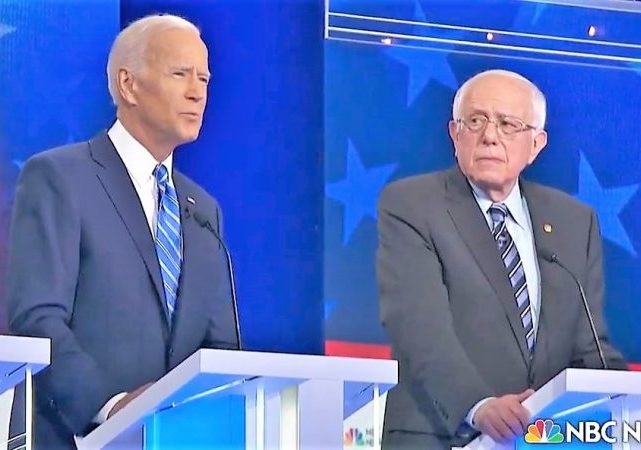 Sunday's Democrat debate will feature Joe Biden and Bernie Sanders, no Tulsi Gabbard.  After his horrendous showing in the last two primaries, Sanders announced that he is staying in the race to attend this debate and to challenge Biden on a range of issues.
The debate starts at 8 p.m. Eastern and can be seen on CNN or Univision.  We are including a live stream below.
The debate moderators, according to CNN, are CNN's Dana Bash and Jake Tapper and Univision's Ilia Calderón.
This is a live thread, so you will find the most recent updates at the top.
Watch live:
[Unfortunately, no live feed available. We'll post highlights as they come in]
Open borders
Joe Biden: "In the first 100 days of my administration, no one, no one will be deported at all," including illegal immigrants who commit felonies.#DemDebate pic.twitter.com/moJe9QXY6W

— Trump War Room – Text TRUMP to 88022 (@TrumpWarRoom) March 16, 2020
Joe Biden is an open-borders immigration extremist.

He once again moved far to the left, and now supports sanctuary cities to protect illegal aliens, undermining the rule of law.#DemDebate pic.twitter.com/6wGOX6sVKf

— Trump War Room – Text TRUMP to 88022 (@TrumpWarRoom) March 16, 2020
Ouch
Buried lede: MSNBC host admits both remaining Democratic candidates are "lifetime politicians" https://t.co/3R1afPIMS6

— Zach Parkinson (@AZachParkinson) March 16, 2020
Bernie Sanders takes a subtle jab at Joe Biden's capacity:

"Let me ask you a question, Joe. You're right here with me?"#DemDebate pic.twitter.com/PHDGjgt4iJ

— Trump War Room – Text TRUMP to 88022 (@TrumpWarRoom) March 16, 2020
Biden promises to appoint a black woman to the Supreme Court
Biden's pledge to impose a threshold requirement for the race and gender of the next nominee is troubling. Such an absolute requirement would be unconstitutional if used for the admission to a public college. Yet it would be used for admission to the Court that created that rule

— Jonathan Turley (@JonathanTurley) March 16, 2020
Biden's promise to appoint a black female to the Court is a remarkable moment for the presidency. It is saying that there will be a race and gender prerequisite for appointments to the Court. This follows the pledge in the earlier debate to impose a litmus test on nominees.

— Jonathan Turley (@JonathanTurley) March 16, 2020
Green New Deal
Joe Biden would decimate American energy independence and destroy millions of jobs:

"No new fracking"

"Not another new coal plant"

"No ability for the oil industry to continue to drill. Period. Ends" pic.twitter.com/7ECql0cItQ

— America Rising (@AmericaRising) March 16, 2020
President Trump: "If you like automobiles, how can you vote for a Democrat who all want to get rid of cars"?

Media: That's false!

Joe Biden: I support "taking millions of automobiles off the road." #DemDebate pic.twitter.com/YeG6BBdnFF

— Trump War Room – Text TRUMP to 88022 (@TrumpWarRoom) March 16, 2020
So long Pennsylvania. https://t.co/AUKupYBSQm

— Stephen L. Miller (@redsteeze) March 16, 2020
Bernie Sanders and Joe Biden are two sides of the same extreme coin.

Biden says he agrees with Sanders and supports the "New Green Deal," a proposal introduced by socialist @AOC that would destroy millions of blue-collar American jobs.#DemDebate pic.twitter.com/In0fWbeeka

— Trump War Room – Text TRUMP to 88022 (@TrumpWarRoom) March 16, 2020
Gay Marriage
Biden: I was the first major politician to support gay marriage. Nope – it was then-Vice President Dick Cheney more than a decade earlier: https://t.co/sCSw1FKXTE

— Joe Concha (@JoeConchaTV) March 16, 2020
Social Security
Joe Biden lied multiple times about his record on Social Security during tonight's #DemDebate.

Here's proof: pic.twitter.com/KgFkkfbnvr

— jordan (@JordanUhl) March 16, 2020
FACT CHECK: here is Biden on the floor calling to cut social security pic.twitter.com/0nTfti4oaz

— Joe Calvello (@the_vello) March 16, 2020
Coronavirus (or maybe Ebola or maybe H1N1)
In the span of 10 seconds, Joe Biden:

– Mixes up the #coronavirus with the swine flu

– Mistakenly calls the H1N1 virus (swine flu) the "N1H1"

– Forgets the name of the Ebola virus, calling it "what happened in Africa"#DemDebate pic.twitter.com/O5cKNBPZSH

— Trump War Room – Text TRUMP to 88022 (@TrumpWarRoom) March 16, 2020
My god both Biden and Sanders keep referring to the wrong crisis….Ebola, SARS etc.

— Yashar Ali ? (@yashar) March 16, 2020