Posted by
Fuzzy Slippers
Thursday, March 5, 2020 at 3:00pm
| 3/5/2020 - 3:00pm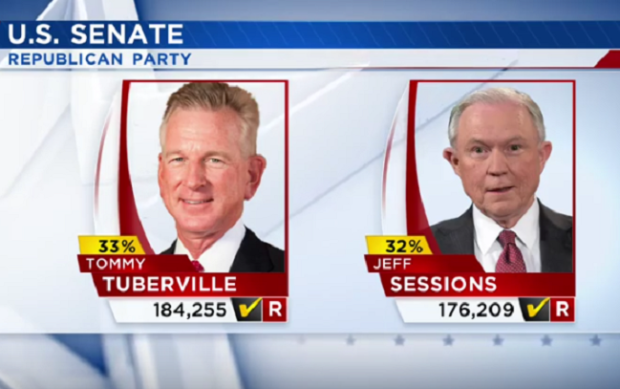 Between the Crash and Bern and Warren coming in third in her home state, Super Tuesday was awesome. While much of our attention is on the Democrat presidential primary, there was an interesting development in Alabama.
Former Senator and former Attorney General Jeff Sessions failed to secure the Republican nomination for his old Senate seat and now faces a runoff election on March 31st. Former Auburn football coach Tommy Tuberville won 33.4% of the vote to Sessions' 31.6%.
Former Sen. Jeff Sessions and onetime Auburn University football coach Tommy Tuberville were neck and neck in the Republican primary race for the Senate on Tuesday night and will face off in a runoff election later this month, NBC News projects.

. . . . Tuberville had 33.4 percent and Sessions took 31.6 percent, with 99 percent reporting.

"I will fight for Alabama every day, and we will win the Republican nomination on March 31," Sessions told a crowd of supporters Tuesday night. He argued that he was a proven and vetted supporter of President Donald Trump and said Tuberville would be further vetted during the next phase of the race.
Sessions was a popular Senator in Alabama before leaving his seat to become President Trump's Attorney General. He was the first Senator to endorse Trump. Over the course of his tenure as AG, however, Sessions lost the president's confidence and was eventually pushed out. You can read our coverage of Sessions here.
Trump, apparently, is still not happy with Sessions and expressed as much on Twitter Wednesday morning.
This is what happens to someone who loyally gets appointed Attorney General of the United States & then doesn't have the wisdom or courage to stare down & end the phony Russia Witch Hunt. Recuses himself on FIRST DAY in office, and the Mueller Scam begins! https://t.co/2jGnRgOS6h

— Donald J. Trump (@realDonaldTrump) March 4, 2020
Tuberville replied:
Mr President I could not agree more and in 27 days help will be on the way!

— Tommy Tuberville (@TTuberville) March 4, 2020
Tuberville has positioned himself as a Trump supporter and potential ally in the Senate.
I'm ready to fight for Alabama in the Senate and for our conservative, Christian values. I'll stand with President Trump and get things done for our great state. pic.twitter.com/w8v2H00PCM

— Tommy Tuberville (@TTuberville) November 6, 2019
It's a good ad. If interested, you can check out where he stands on the issues here.
Watch Tuberville after the Tuesday vote:
Sessions' ad is also good.
Out of the 100 United State Senators, I was the very first one to stand with @realDonaldTrump and I will keep fighting for him and his agenda. pic.twitter.com/Cf0tN8nzGl

— Jeff Sessions (@jeffsessions) November 14, 2019
For his part, Sessions is countering by calling Tuberville a "tourist" from Florida and reminding voters of his accomplishments throughout his political career.
I look forward to this runoff with @TTuberville with great confidence. Let me say this – no one will prevail in this Senate race without being vetted. This is especially true of a tourist from Florida.

— Jeff Sessions (@jeffsessions) March 4, 2020
The Montgomery Advertiser reports:
The result sets up a four-week race between the top two vote-getters after an extended election campaign that was almost entirely focused on which Republican was most loyal to Trump and with very few state issues.

Both candidates indicated they would continue to argue about who was most userful to Trump in remarks to supporters Tuesday evening.

"We're going to overtime, and I know someone who knows how to win in overtime," Tuberville said. "We're going to finish what President Trump started when he looked at Jeff Sessions from across the table and said you're fired."

Sessions fired back later in the evening, calling Tuberville "a tourist from Florida" and accusing him of not standing by the president as he had.

"Anyone can say they are for the Trump agenda," Sessions said. "But talk is cheap. But I have fought on the great issues of our day and won. I have stood alone on facts and principles and won."
Sessions also cites his strong record on border control and the Second Amendment.
"Jeff Sessions has always stood up to The Swamp and always worked to hold Washington accountable. We need him now more than ever to stand up for what's right and stand with President Trump to keep America safe." – @ICEgov Council pic.twitter.com/UQKEYaKShQ

— Jeff Sessions (@jeffsessions) March 2, 2020
I've been tested — time and again — and I've always stood firm for gun rights. I earned my A+ NRA rating in the trenches against those who would take our guns and trample our freedoms. I'll keep up the fight and we will keep winning! @NRA https://t.co/EZKgXpU1El

— Jeff Sessions (@jeffsessions) March 2, 2020
Watch Sessions after the Tuesday vote:
It will be interesting to see who wins the Alabama GOP runoff to face Sen. Doug Jones (D) in November.