Posted by
Mike LaChance
Sunday, February 16, 2020 at 10:00am
| 2/16/2020 - 10:00am
"We got to innovate out of this problem and, also right at the core has got to be environmental justice."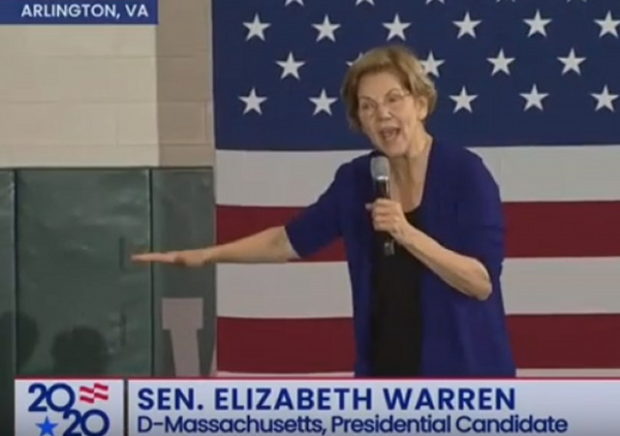 During a recent campaign stop in Virginia, Elizabeth Warren praised the 'Green New Deal' but suggested it just doesn't go far enough. She also wants a 'Blue New Deal' to save the oceans.
This is becoming a familiar pattern for some 2020 Democrats. When they think their campaign is floundering, and Warren's is, they try to up the progressive ante and push harder left. We saw Beto O'Rourke do this with gun control shortly before he dropped out.
Warren is now doing it with climate change.
Spencer Neale reports at the Washington Examiner:
Warren proposes 'Blue New Deal' to 'save our oceans'

Sen. Elizabeth Warren told a fired-up crowd that she "believes in science" before proposing a "tenfold" increase in science funding if she is elected president.

The Massachusetts Democrat, who struggled in the first two primary contests of the 2020 election season, said the proposed "Green New Deal" does not go far enough to deal with climate change.

"I'm all for a 'Green New Deal,' but it's not enough," Warren said. "We gotta have a 'Blue New Deal' to save our oceans as well."
Julio Rosas has more at Townhall:
Elizabeth Warren Says the Green New Deal Doesn't Go Far Enough: We Need a Blue New Deal!

Sen. Elizabeth Warren (D-MA) is trying to keep her struggling campaign alive by going all in with the Green New Deal to combat climate change during a campaign stop in Arlington, Virginia, but she said it does not go far enough and proposed another plan to help the world's oceans.

"Climate change threatens every living thing on this planet. What truly scares me the most is every single time the scientists go out and collects some more data and do some more analysis, the problem is worse than we thought, and we have less time than we thought. That means the urgency of the problem cannot be overstated," she said on Thursday.

"I am going to increase by 10 fold the money we put into science, basic science, applied science, every part of this. We got to innovate out of this problem and, also right at the core has got to be environmental justice. For decades in this country, this nation has permitted toxic waste dumps, polluting factories, to be located in or next to communities of color," she continued.
The video is below, and I recommend watching the whole thing. In one surreal moment, Warren proclaims her belief in science and the crowd starts chanting "Sci-ence! Sci-ence!" You can't help but wonder how these folks would respond if they were asked how many genders there are:
Last week, Democratic strategist James Carville warned Democrats that they need to start talking about issues that appeal to a broader coalition of voters.
It doesn't appear as though Warren's campaign got the message.
Featured image via YouTube.